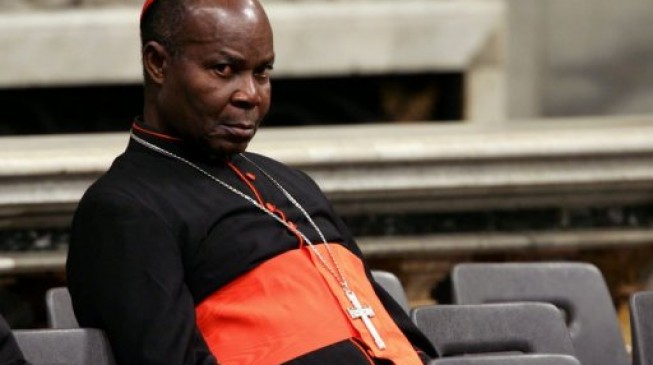 Olubunmi Okogie, former archbishop of the Catholic Church in Lagos, has asked supporters of President Muhammadu Buhari if Bill Gates has become a looter.
During his visit to Nigeria last month, the American billionaire attended an expanded meeting of the national executive council (NEC).
Addressing the gathering chaired by Vice-President Yemi Osinbajo, Gates said the execution process of the economic and recovery growth plan (ERGP) did not reflect the needs of Nigerians.
Many, including Nasir el-Rufai, governor of Kaduna, had disagreed with the Microsoft founder. Gates comment attracted different reactions.
Commenting on the state of the nation, Okogie wondered if the American businessman had become an enemy of the government.
"Our government got a friendly reminder recently. Counselled to invest resources in the people of Nigeria, its apologists, as usual, insulted the messenger. Has Bill Gates become a 'wailer' and a looter as critics of this government are often labelled?"
The cleric said Nigerians have been forced to watch a "show of shame" between the All Progressives Congress (APC) and Peoples Democratic Party (PDP).
He said this in reaction to the accusations and counter-accusations of the two political parties on who looted country's treasury.
Lai Mohammed, minister of information, had released a list of those who allegedly looted the country treasury.
But most of those mentioned on the list have since denied any wrongdoing.
Okogie said there are good reasons to suspect that the looting "took place across party lines". He said Nigerians need to know how the two parties funded their campaigns in 2015.
"Nigerians are currently forced to watch a show of shame by the ruling party of today and the ruling party of yesterday. Such are accusations and counter-accusations of looting that Nigerians find it difficult to differentiate between the accuser and the accused," the statement read.
"Huge sums of money belonging to the people of Nigeria obviously got into wrong hands and for the wrong reasons. There are good reasons to suspect that the looting that took place cut across party lines. Nigerians deserve to know how, for example, the two leading parties financed their campaigns in 2015.
"But instead of honest answers, we are treated by the two big parties to a theatrical display of politically-motivated compilation of lists of looters."
Okogie said Nigerians are impoverished by those put in charge of the country's resources.
"The standard of living continues to nosedive. And while politicians display ill-gotten wealth at birthday and wedding parties, there is widespread dilapidation of infrastructure," he said.
"Instead of indecently jostling for positions in 2019, the immoral electioneering propaganda that has replaced good governance, and the vicious fight over whose turn it is to capture the pot of honey that Nigeria's wealth is, our politicians across party lines should stop and ponder: what type of Nigeria are we handing over to our children and to our children's children?
"Whether our political leaders in all the parties will seek wise answers to that question is left to be seen. That is why we are still watching and waiting."





TheCable