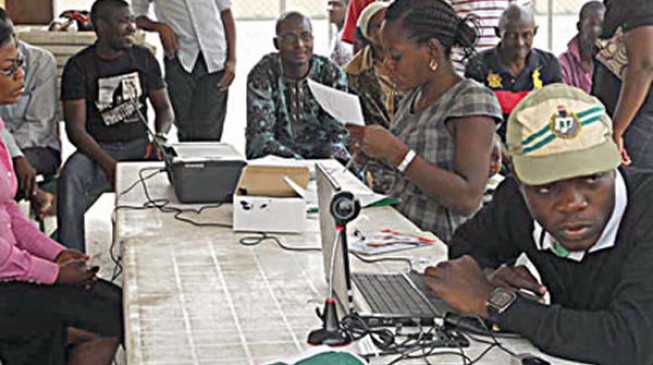 The Independent National Electoral Commission (INEC) says it has registered at least 10 million Nigerians in the ongoing nationwide continuous voter registration (CVR).
Mahmood Yakubu, chairman of INEC, disclosed this at the commission's quarterly consultative meeting with security agencies under the auspices of Inter-Agency Consultative Committee on Election Security (ICCES) on Friday in Abuja.
Yakubu said the people were registered between April, 2017 when the CVR commenced and end of June, 2018.
He said the total number of registered voters in the country would increase to 80 million when the figure from the CVR was added to existing 70 million voters.
"As at June 22, 2018 fresh registration is 9,922,619, PVC Collection, 576,346; request for transfer, 489,354 and request for replacement of PVCs, 766,435," he said.
"What this means is that since the commencement of CVR on April 27, 2017, about 10 million Nigerians have been registered and this will be added to existing register of 70 million voters.
"This means that as we approach 2019 general election, Nigeria will have voter register of at least 80 million.''
Yakubu said INEC was committed to transparency in the conduct of elections and the declaration of results.
He said one of the things the commission had consistently been doing was to issue copies of elections' result sheets to agents of political parties at that level.
He said following stakeholders' demand for transparency in the electoral process, INEC responded by displaying result for each polling unit immediately after counting of ballot for public information.
"Having found this as a useful way of enhancing citizens' mandate protection, we took it a step further by introducing the EC60E," he said.
"The form is a large poster reflecting the result in each polling unit as recorded on the EC8A shared with agents of political parties. The poster is pasted at each polling unit immediately after the counting of ballot papers.
"Consequently, citizens now know the outcome of voting in each polling unit and can track the processes of collation leading to the final declaration of results.
"These posters were effectively deployed in all elections since the Anambra state fovernorship election in November, 2017. We shall deploy them in all forthcoming elections."
He urged the security agencies to help and ensure that the form was pasted at polling units after the declaration of election result in the units.
TheCable