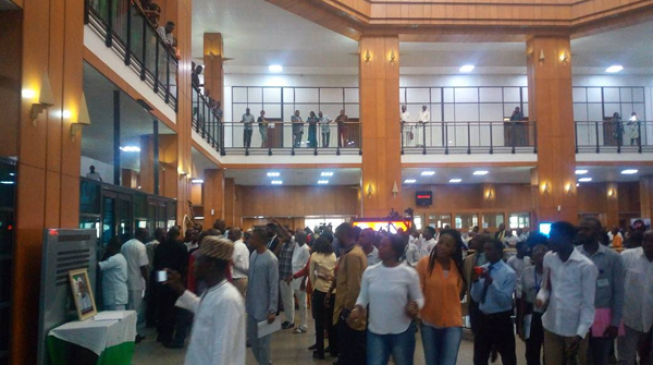 Ike Ekweremadu, deputy senate president, says two senators were almost kidnapped in the "commotion" that arose from theft of the mace, the senate's symbol of authority.
Ovie Omo-Agege had on Wednesday, gained entrance into the upper legislative chamber, accompanied by some unidentified persons who carted away the mace.
Speaking at a reconvened session that was made possible with a "spare mace," Ekweremadu said the senate would not be "intimidated" by threats to the national assembly.
"They forcefully took away the mace at the senate and they passed through this entrance, passed through all the gates and left the national assembly with that mace," he said.
"They attempted kidnapping two of our senators… but we decided that we will not be intimidated by this circumstance.
"We would stand by our democracy, we would defend our democracy.
"It is an affront on democracy, it is an affront on the senate, it is an affront on the national assembly, and it is an affront on our parliament.
"But we are going to stand together to ensure that we continue the assignment Nigerians gave us to represent them.
"We are going to get to the root of this matter and I believe that I speak the mind of all of you here if I say that security agencies must recover our mace within seven days."
After an obvious uproar by members of the house in protest of the seven-day mace retrieval period, the speaker charged security agencies to retrieve the mace in 24 hours.
"We are giving the inspector general of police and the director of the SSS (state security service), to recover our mace within 24 hours."