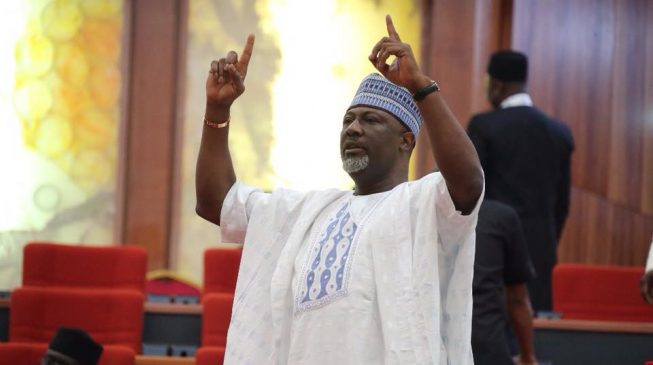 Dino Melaye, senator representing Kogi west, says he will make himself available to the Nigeria police force.
The police have been on his trail lately.
On Monday, the senator was detained at the Nnamdi Azikiwe International Airport, Abuja and was blocked from travelling abroad.
Not long after, policemen and operatives of the Department of State Services (DSS) laid a siege to his residence in Abuja, restricting his movement.
TheCable had been unable to get the police reaction on the matter as they are yet to respond to enquiries regarding it.
Writing via his Twitter handle on Tuesday, Melaye accused the police of trying to intimidate him "for defending the poor".
"I will make myself available to the police today," he wrote.
"My resolve to speak the truth and defend the poor masses of Nigeria is total. We shall overcome.
"A man without arm, no security yet you mobilise 150 policemen to invite him. And those who committed Treason are free. We shall not be intimidated or cowed. Struggle continue."
Of late, the senator has been in a running battle with the police. In March, he was declared wanted in connection to a murder case.
The police had said some crime suspects confessed that he supplied arms to them, an allegation the senator denied.
The federal government has also filed a suit against him for allegedly framing Edward Onoja, chief of staff of Yahaya Bello, governor of Kogi state, whom he had accused of being behind an assassination attempt on his life.
In a suit before a high court of the FCT, the federal government, through the office of the attorney-general of the federation (AGF), said the police found out that Melaye's claim was false.
TheCable