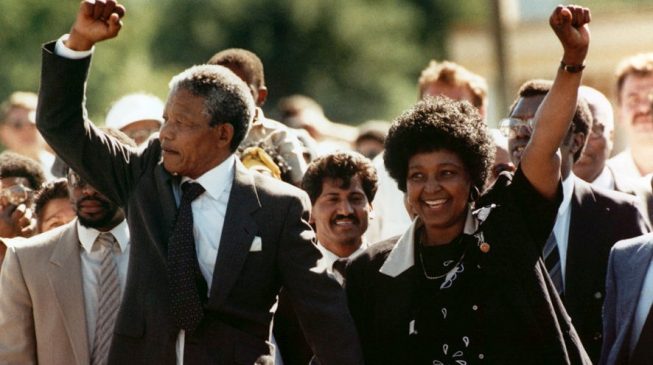 On Monday, Winnie Madikizela Mandela, ex-wife of South African hero, Nelson Mandela, died at the age of 81.
According to her family, Winnie died at the Netcare Milpark Hospital' Johannesburg' South Africa.
Like Mandela, Winnie has her name in the sands of time and will continue to resonate in the background of history.
Below are five six moments in Winnie's life.
HER BIRTH
Birth is the start of life, and paves way for everything else that man will be. For Winnie, her journey began on September 26, 1936. She was born Nomzamo Winifred Zanyiwe Madikizela to Columbus and Gertrude, an Xhosa family in the village of eMbongweniBizana, in the then Union of South Africa.
MARRIAGE TO NELSON MANDELA
On June 14, 1958, Winnie got married to Mandela in Johannesburg.  Mandela was reported to have spotted her at a bus stop and, after a brief chat, secured a date with her the following week.
They have two daughters, Zenani and Zindziwa.  However, their physical stay together as man and wife was cut short when Mandela was imprisoned in 1963. For the next 27 years, Winnie would raise their girls alone.
FOUND GUILTY OF KIDNAPPING
Winnie's reputation was tainted when on April 13, 1986, she reportedly endorsed the practice of necklacing (burning people alive using tyres and petrol).
"With our boxes of matches and our necklaces we shall liberate this country," she was quoted to have said.
She was also accused of kidnapping and murder after four Soweto youth were abducted from the home of a Methodist minister on her order. One of the boys was later found dead. In 1991, she was acquitted of all the charges but kidnapping. Her six-year jail sentence was, however, reduced to a fine on appeal.
FIRST CONTACT IN PRISON
On May 12, 1984, Winnie and Mandela were allowed first contact visit after 22 years of communicating through glass windows in prison.
WALKS OUT OF PRISON WITH MANDELA
On February 11, 1990, the world watched as Mandela finally walked out of prison, hand in hand with Winnie, with their free hands, thrusting the air in sign of solidarity.
WINNIE AND MANDELA GOT DIVORCED
After waiting 27 years to be reunited, the couple separated in 1992, and finalised the divorce process in 1996, when Mandela was president. They were married for 38 years.
Even though she cannot witness the world celebrate her, the "mother of new South Africa" will live beyond time, in the hearts of many.






TheCable