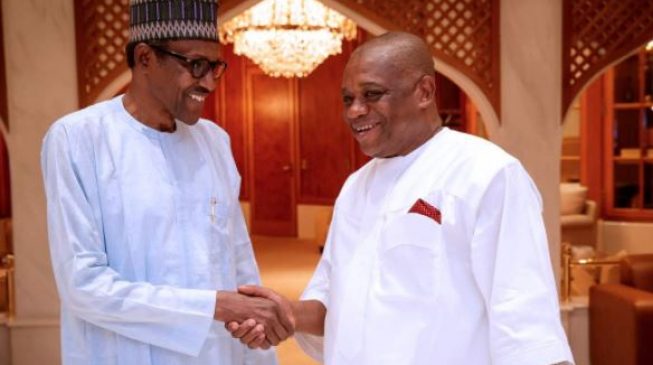 Orji Kalu, chieftain of the All Progressives Congress (APC), says President Muhammadu Buhari will run for re-election "except the Lord says no".
Kalu, a former governor of Abia, made this known on Saturday during his advocacy visit to the palace of Deji of Akure in Ondo state.
The APC chieftain told the traditional ruler that his mission was to solicit his continued support for Buhari's re-election bid.
He said: "Continue your purposeful leadership and support for President Buhari's re-election bid because he is going to run except the Lord says no.
"He will run the forthcoming election because there is no alternative and I believe he will bring a lot of stimulus into the economy to make sure that Nigerians enjoy.
"Please preach peace advocacy within your area because I know traditional rulers are closer to the people.
"The president may have made mistakes but we are on ground to correct him and I know he has delivered in terms of service delivery what no past president had done."
Kalu said he will score president Buhari 89 percent in terms of his handling of security issues in the country.
"I score President Buhari 89 per cent on security because Boko Haram almost took Abuja before he came to power and some of the equipment meant to tackle insecurity is being purchased now," he said.
"Gradually, we are getting there."
He cautioned Nigerians, especially those at helms of affairs, to guard their utterances that could endanger the peace of the country.
"It is unfortunate that some utterances emanating from some leaders are not well guarded," he said.
"If we know what happened to Rwanda, people will not be making such mistake but preach peace.
"There is no good Miyetthi Allah that will kill his fellow Nigerians. We have been living with northerners for long without problem."
Furthermore, Kalu said there is no division among the leadership of the All Progressives Congress (APC).
On the issue of tenure elongation for the party's national working committee, he said: "The national executive committee of the party only asked Odigie Oyegun, the APC National Chairman, to act since elections are approaching.
"Oyegun himself never asked for tenure elongation and that is the truth. But President Muhammadu Buhari said everything must be done according to constitution of the party."
He said the APC will hold its congress and every member of the party has a right to contest.





TheCable