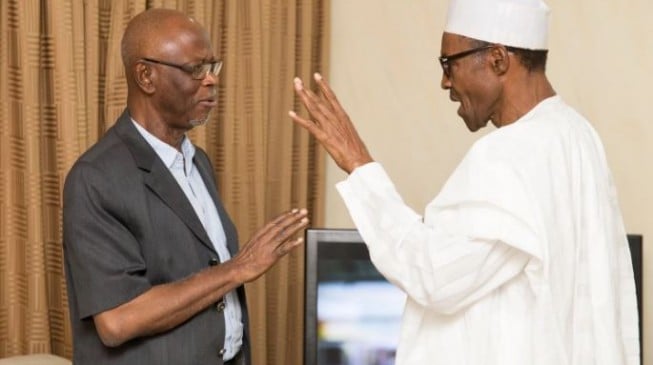 The All Progressives Congress (APC) non-national working committee says President Muhammadu Buhari's concern for due process is "legendary".
The forum said this while reacting to Buhari's position on the tenure extension of John Oyegun, national chairman of APC, and other party executives.
Before Buhari kicked against the tenure extension, the forum had supported it.
But speaking with journalists on Sunday, Jock Alamba, spokesman of the forum, said they align with the president because of his commitment to internal democracy.
"We the forum of All Progressives Congress (APC) NON-NWC members wish to state clearly and unambiguously that we stand with our dear President, Muhammadu Buhari, GCFR, on his position that election to party offices, starting from ward, local government and state congresses to national convention be conducted unencumbered, with free and fair elections," he said.
"President Buhari's concern for due process is legendary, that we could not underrate his concern that since the law is an ass, our most likely 2019 presidential and other electoral victories should not be toyed or placed in jeopardy with legal niceties or put in harm's way of fortune hunters.
"Our position is reaffirmed after a careful survey, which shows that 99 percent of the entire membership and governors of our great party are in support of Mr President's second term bid.
"It is a common position that for the overall interest of our great country that Mr President should complete the critical infrastructural foundations he is laying.
"This means that with all hands on deck, we can avoid the risk of rancourous and conflict ridden intra-party elections which made majority of our leaders to clamour for one year elongation of tenure in the eve of 27 February, 2018, national executive committee (NEC) meeting."
Alamba said members of the APC would "work together as a family and disappoint naysayers who are hoping for armageddon".







TheCable