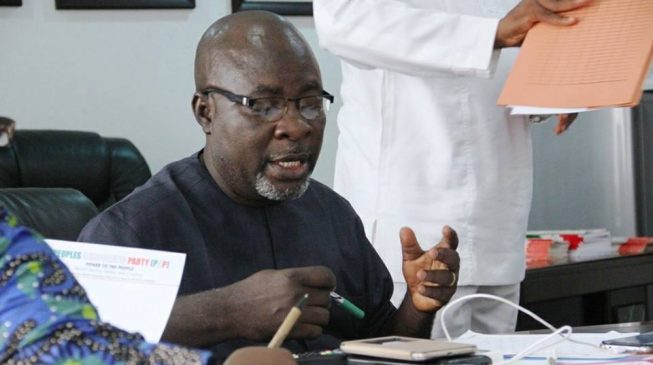 The Peoples Democratic Party (PDP) has alleged that the All Progressives Congress (APC) is planning to clamp down on citizens campaigning against it ahead of the 2019 elections. 
In a statement on Saturday, the party said the APC was never a political party meant for governance, rather "a contraption for oppression and vendetta".
The statement issued by Kola Ologbondiyan, PDP spokesman, said the APC is the problem of Nigeria as it has "proven to be the clog in our collective quest for national cohesion, happiness and economic prosperity as a people".
"Already, there are plans by APC to extend the clampdown on opposition leaders to regular citizens, who have seen through their lies and deception and are in open agitation to vote them out in 2019," the statement read.
"We note that since the recent boast by President Muhammadu Buhari on his abuse of rights as a military ruler, there has been an escalation of clampdown on citizens, particularly, the opposition, in various parts of our country."
The party also said since coming to power, the APC has done nothing to improve the lives of Nigerians except "actions and comments that promote hatred and violence" in the country.
"It is also on record that the APC has not formulated any clear-cut programme for good governance; it has never called its government to order in their recklessness, particularly, on the documented abuse of human rights and violation of our constitution and democratic order," the statement read.
"Despite attempts in blaming past administrations, it has since become clear that the on-going barefaced looting of our national treasury, particularly through the sleazy oil subsidy regime under President Buhari's supervision, coupled with government's gross incompetence and official highhandedness, are directly responsible for the economic hardship and escalated violence in our nation today."
TheCable reached out to the APC to react to the PDP's claims of a planned clampdown on citizens but Bolaji Abdullahi, the party's spokesman, was yet to reply to the enquiry as at when this report was filed.




TheCable