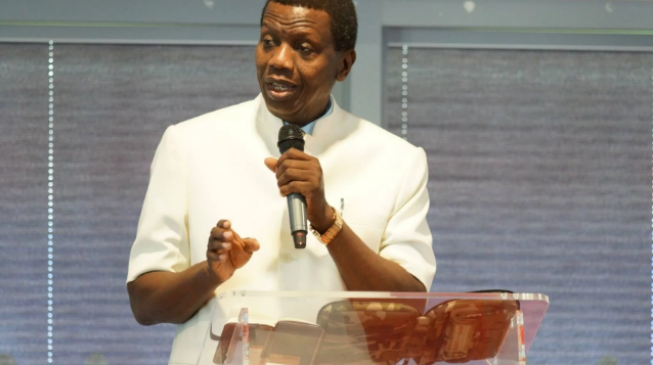 Enoch Adeboye, general overseer of the Redeemed Christian Church of God (RCCG), has warned that if Nigeria must survive, the killings around the country must stop.
Adeboye said this on Friday during his sermon at the church's May Holy Ghost Service at the Redemption Camp.
Mid-sermon, the cleric paused to call on the congregation of thousands of people to join him in praying for the end of killings in the country.
He said when a bishop asked him who would win the 2019 presidential election, he replied that unless the killings stopped the 2019 elections may not hold because people would be scared to go out to vote.
He, however, explained that the threat to elections was his personal reasoning and not a prophecy.
Recalling the effect of the killing of 27 people, including two priests in Benue state in April, he said it threw him into a sad mood, prompting his wife, Folu Adeboye, to ask him in Germany, where they were holding a programme of the church, why he was not his usual cheerful self.
"As a leader people from various denominations call daddy, the 27 people killed were my children who were in a church or returning from a church programme," Adeboye said he told his wife who had not heard the news at the time.
"As a father, I naturally became sad over that."
Two priests and 15 congregants were killed in an attack by suspected herdsmen who invaded St. Ignatius Quasi Parish Ukpor-Mbalom in Ayar-Mbalom community of Gwer East local government area of Benue.
No fewer than 100 houses in the community were also razed in the attack.
A week later, 10 people returning from morning mass were murdered by suspected herdsmen in military uniform in Naka, Gwer West local government area of the state.