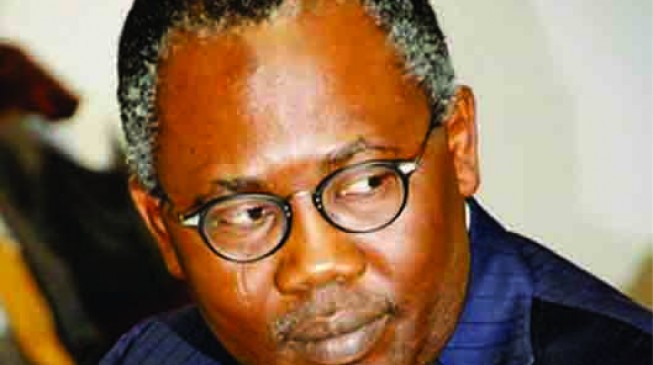 Mohammed Bello Adoke, former attorney-general of the federation, says there is a plot to pitch him against former President Goodluck Jonathan with a "fake" phone tape over the Malabu affair.
He said there is an "elaborate attempt at dressing up falsehood to pass as truth and substituting reality with fiction in order to misinform undiscerning members of the public, denigrate my person and cause disaffection and ill-will between me and my principal, President Goodluck Ebele Jonathan, GCFR who gave me the rare opportunity to serve this great country in the capacity of Attorney General of the Federation and Minister of Justice".
Premium Times had reported
on Saturday that the phone tape is part of evidence to be used against the officials of Eni and Shell in their trial by an Italian court over the Malabu oil deal.
Adoke is said to have told an Italian journalist on phone that he knew the Malabu deal was a "presidential scam" and that billions were "illegally diverted" in the controversial sale of OPL 245 to Shell and Eni.
The IOCs paid $1.3 billion for OPL 245 in 2011 — with $210 million going to the federal government as signature bonus and $1.1 billion to the original owners, Malabu Oil & Gas Ltd owned by Dan Etete, former minister of petroleum.
There have been allegations of sleaze surrounding the deal and the Economic and Financial Crimes Commission (EFCC) has filed charges against Adoke, who denies any wrongdoing.
Adoke, in a statement shared with TheCable, said he never granted any phone interview to the journalist, named Carlarmaria Rumor.
"I want to place it on record that I did not grant any telephone interview to Carlamaria Rumor or any other person in respect of OPL 245 Settlement Agreement. The said Carla Maria is unknown to me, has never spoken to me and I could therefore not have granted her a 1 hour 17 minutes phone interview. I have checked RAI Television website, but the said Carlamaria Rumor is not listed either as a TV or print journalist with RAI Television," he said, adding: "This is clearly a case of a phantom RAI journalist that exists only in the figment of the imagination… Furthermore, Micheal Nomah whom (the writer) claims to have contacted to react to his fake story is also unknown to me and has never represented me on any legal issue."
Adoke, who is currently on self-exile, said he could not have granted a "reckless" interview on the phone given the circumstances, asking why he would have promised the journalist "millions" when the EFCC is accusing him of taking $2 million from the deal.
He said: "If indeed if I was given 2.2 million Dollars for the OPL 245 transaction as alleged by the EFCC, why would I be offering to give the money to the imaginary journalist? How on earth would any one believe that I could talk so carelessly and recklessly to a journalist that I had never met in person, when indeed, I am fully aware of the clandestine plans to nail me at all cost? It is simply incredulous."
While demanding a retraction of the story, he said it was meant to "downplay" the significance of
the judgment of the federal high court
"which declared that I acted within the confines of the Presidential Directives/approvals given to me as a Minister of the Government of the Federation and therefore incurred no personal liability for implementing the OPL 245 Settlement Agreement".