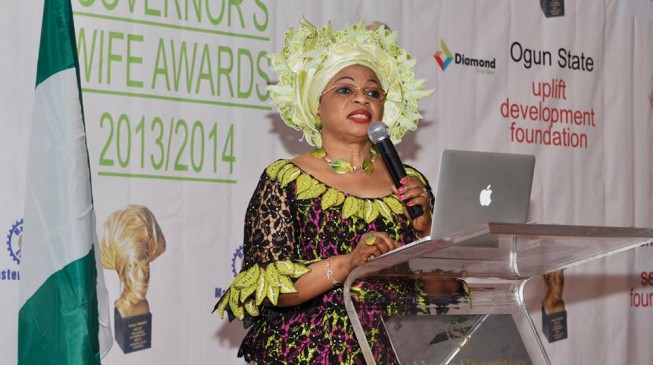 Folorunso Alakija, billionaire businesswoman, has narrated how one of her staff defrauded her foundation of N3m.
Speaking at an Ikeja high court on Thursday, she narrated how one Vincent Ayewah, a member of staff of her Rose of Sharon Foundation, allegedly forged cheques and connived with his siblings and cohorts to pose at banks as beneficiaries of the foundation.
Ayewah, who was employed by Alakija as a clerk and administrative officer, is standing trial alongside his siblings, Florence and Emmanuel, as well as four others for fraud.
The other defendants are Onuwa David, Okoronkwo Chikadibia, Ehizibolo George and Chinyere Awanah.
While being led in evidence by the prosecuting counsel for the Economic and Financial Crimes Commission (EFCC), Alakija told the court how he allegedly carried out the fraud.
"On November 13, 2012, I was called by my treasurer, Gladys Efiozor, who said she received a call from Stanbic IBTC that there was a forgery of a cheque," she said.
"I told her to send me an email of the forged cheque and when I saw it, I told her that the signature was not mine.
"There are three signatories to that account and the forged signature did not match those of the other signatories.
"Florence (Vincent's sister) was the one caught with the cheque; the bank called EFCC to investigate and Florence was handed over to the EFCC. It was discovered that the bag she was carrying had 12 different identity cards of beneficiaries of the foundation with her pictures on the identity cards.
"The bag also contained cash collected from other banks from the foundation's account."
Alakija also told the court that she confronted him and seized his mobile phone after he had received a "suspicious" call.
She claimed that he deleted an incriminating text message from his phone.
"He admitted to the fraud and begged for mercy; he had done other infractions in the past and had begged for mercy anytime he was caught,'' Alakija added.
Alakija told the court the accused enjoyed a new lifestyle with proceeds from the alleged scam, claiming he bought new car which he parked far away from the premises of the office to avoid detection.
"A blank cheque and a survey plan of a property was in his car," she said.
"He had committed infractions before, begged for mercy and I forgave him. I thought that with warnings, he will change."


TheCable