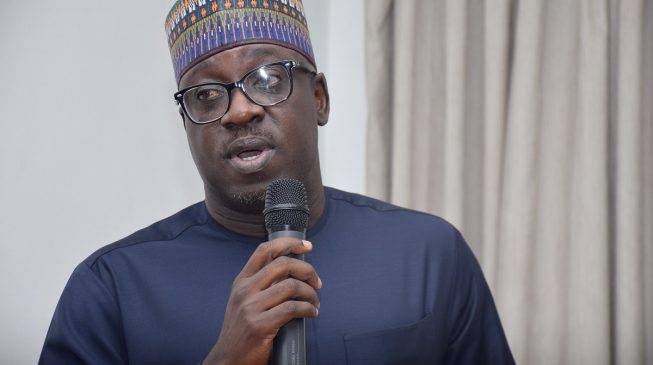 Bolaji Abdullahi has succeded in retaining his position as the spokesman of the All Progressives Congress (APC).
He polled a total of 2002 votes to defeat Abdul Sidiq, his closest opponent who garnered 243 votes.
With over 1700 votes, Emma Ibediro, preferred candidate of Rochas Okorocha, displaced Osita Izunaso, national organising secretary of the ruling party.
Ebijiro and Izunaso belong to different factions of the APC in Imo. Members of these factions clashed publicly on Saturday.
Speaking before announcing the results, Badaru Abubakar, governor of Jigawa and chairman of the convention, said despite "some skirmishes", the process went well.
Below are the winners:
Nduka Ayongo – ex-officio south-south
Aminu Tumnaga- zonal woman leader
Blessing Onuhua- zonal woman leader south-east
David Okumba – zonal Secretary south-south
Zuera Bakare- zonal woman leader north-west
John Uwede – zonal secretary south-east
Timothy Amah- zonal organising secretary south-east
Femi Ibedeyi – zonal organising secretary south-west
Ade Fadileri – zonal organising secretary south-south
Shuaibu Abdulrahman – zonal organising secretary north-east
Gabriel Osuori – zonal youth leader south-south
Onyeka Osimeka- zonal youth leader south-east
Laoke Olanrewaju – zonal youth leader south-west
Abubakar Sa'adu – zonal youth leader north-west
Kasim Bello Maigari – zonal youth leader north-east
Afeez Bolaji – deputy national youth leader
Abubakar Shiuab- national youth leader
Onye – deputy national woman leader
Salamatu Umar – national woman leader
George Mohgalu- national auditor
Bolaji Abdullahi – national publicity secretary
Sunday Chukuma- deputy national financial secretary
Adamu Fanda- national treasurer
Ado Oguta – deputy legal adviser
Hillary Ekpe- national vice-chairman south-south
Emmanuel Omachukwu – national vice-chairman south-east
TheCable