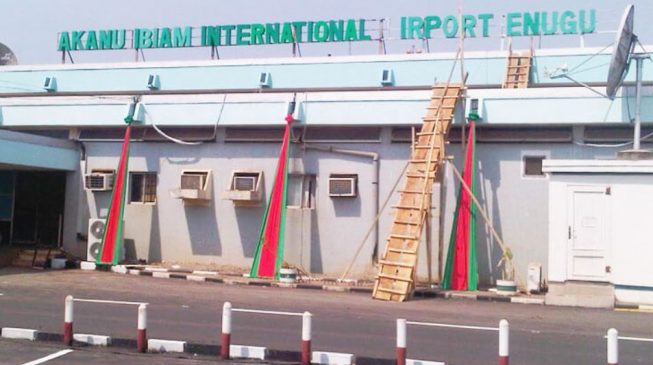 President Muhammadu Buhari on Wednesday signed the 2018 budget into law, eight months after he presented the proposal to the national assembly.
In his budget signing speech, the president said the national assembly reduced the provisions for some projects and added 6,403 projects of their own to the budget.
The takeoff grant for Maritime University and the construction of a terminal building at the Akanu Ibiam International Airport, Enugu, were also affected.
At present, flights cannot operate at night at the Enugu airport because there are no approach lights, which should be installed at both ends of the runway.
Hadi Sirika, minister of state for aviation, has said an upgrade of the airport would result in job creation and investments. However, the president says the national assembly's actions will delay the completion of the project.
Here are some of the major projects whose provisions got slashed by the national assembly.
| PROJECT | REDUCED BY | NEW BUDGET |
| --- | --- | --- |
| Construction of the terminal building at Enugu Airport | N1.5 billion | N500 million |
| Mambilla power plant, Second Niger Bridge, East-West Road, Bonny-Bodo Road, Lagos-Ibadan Expressway and Itakpe-Ajaokuta Rail Project | N11.5 billion | N/A |
| Abuja mass transit rail project, arterial roads | N7.5 billion | N/A |
| Rehabilitation of United Nations Building, Abuja | N3.9 billion | N100 million |
| Establishment of chemotherapy centres, upgrade of tertiary health institutions | N7.45 billion | N/A |
| Security infrastructure for Unity schools | N3 billion | N/A |
| National housing programme | N8.7 billion | N/A |
| Pension redemption fund and Public service wage adjustment | N5 billion | N/A |
| Export Expansion Grant (EEG) and Special Economic Zones/Industrial Parks | N14.5 billion | N/A |
| Take off grant for Maritime University, Delta state | N1.6 billion | N3.4 billion |