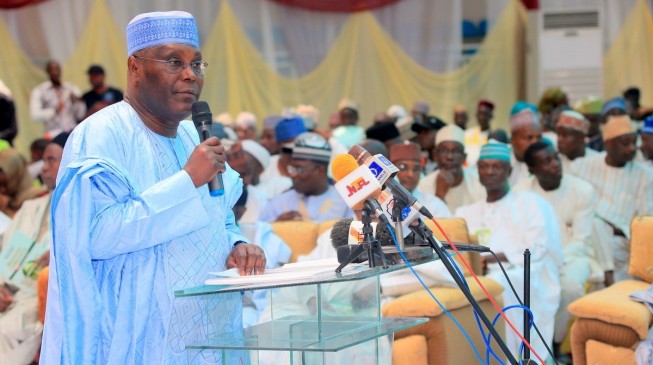 Former Vice-President Atiku Abubakar has called on the All Progressives Congress (APC) to accept defeat in good faith if it loses the July 14 governorship election.
Atiku, who visited Ayo Fayose, governor of Ekiti, said losing an election to a rival party should be seen in the light of the concession by former President Goodluck Jonathan in 2015.
Atiku was accompanied by the members of the PDP governorship campaign council.
The former vice-president also expressed satisfaction with the level of preparedness of the PDP for the election.
"We are satisfied that the Peoples Democratic Party is prepared for this election," he said.
"We hope that the All Progressives Congress (APC) will accept the outcome of the election.
"They should be democratic for the first time. We have seen how democratic they are, but for the first time in 2015, we have the opposition party taking over from the ruling party, we expect them to do the same."
In his remarks, Fayose said the PDP was ready for the election, vowing that the people of the state would defend their votes.
"They (PDP leaders) are here because they know that PDP has won this election. Everyone is on the same page with us," he said.
"We are looking forward to observers from all over the world because I am the voice they want to suppress. We are prepared for the election and we are going to win."
Among those in Abubakar's delegation were Ike Ekweremadu, deputy senate president; former Senate President David Mark; Ibrahim Shekarau, former governor of Kano state; Gbenga Daniel,  former governor of Ogun; and  Eyinnaya Abaribe, a senator from Abia.



TheCable