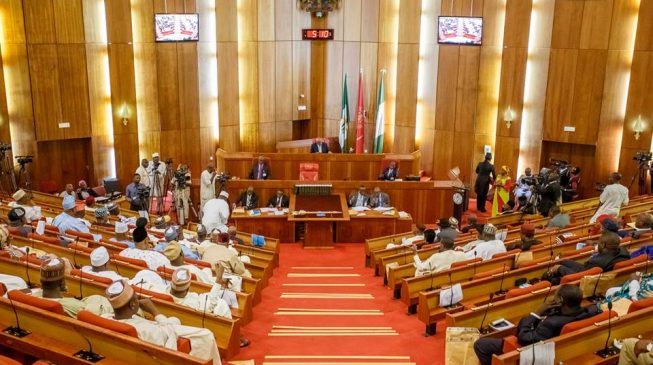 The senate on Wednesday confirmed four resident electoral commissioners (RECs) for the Independent National Electoral Commission (INEC) but not without a scenario.
Sulieman Nazif, chairman of the INEC committee, while presenting his report recommended that Monday Udo Tom, Attahiru Garba Madami and Festus Okoye should be confirmed but Ahmed Bello Mahmud should be rejected.
Nazif based his recommendation on a petition received by his committee.
In response, Kabir Marafa, senator representing Zamfara central, protested alleging that the petition was written by Abdulaziz Yari, governor of Zamfara, without an affidavit required by their rules.
Marafa alleged that the chairman was compromised, arguing that he had evidence to back his claim.
"There was a petition by the state governor. The governor said he was not from Zamfara state, but from Sokoto state," he said.
"But the report of this committee stated that he went to primary, secondary in Zamfara. This is hypocrisy at its best. Our head of service is from Sokoto state. Yari should sack those people and then write a petition.
"Senator Nazif is compromised, I have evidence."
But Ike Ekweremadu, deputy senate president, citing a rule, asked Marafa to apologise to Nazif.
Senate President Bukola Saraki asked Marafa to apologise and threatened to rule him out of order.
Marafa still protested. He said: "I will withdraw my statement but I will not apologise, I stand by what I said. Where is the affidavit in line with order 127."
When Saraki put Mahmud's name to question whether he should be approved or rejected, the "ayes" had it.
Thereafter, Marafa apologised to Nazif and the rest of his colleagues for his outburst.