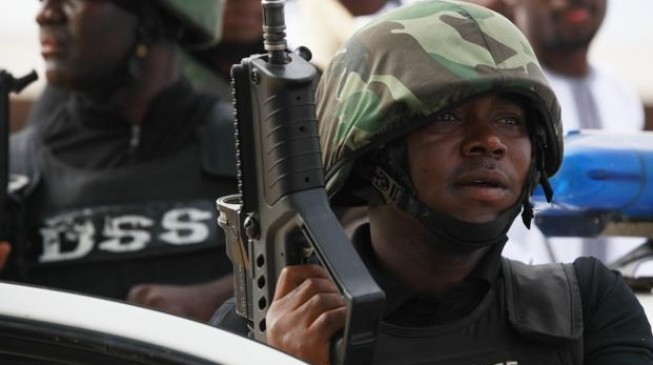 The Department of State Services (DSS) raided the Abuja residence of Eyinnaya Abaribe, senator representing Abia south, on Friday evening.
The secret police arrested him on Friday morning without disclosing the reasons, though it is believed to be in connection with the surtey he stood for Nnamdi Kanu, leader of the Indigenous People of Biafra (IPOB).
Alongside Tochukwu Uchendu and Emmanuel Shallom Ben, Abaribe signed a bond for the bail granted the IPOB leader in April 2017.
Kanu has not been seen in public since September when soldiers invaded his residence and Abaribe has been under pressure to produce him.
DSS operatives reportedly arrived spent hours at the lawmaker's residence.
Ohanaeze Ndigbo, apex Igbo socio-political organisation, has demanded the immediate release of Abaribe.
In a statement on Friday, John Nnia Nwodo, president general of Ohaneze Ndigbo, said the circumstances at the time of the "disappearance" of Kanu are beyond the "contemplation of the law that a surety can guarantee the production of an accused person".
"The army in the name of 'Operation Python Dance' invaded Nnamdi's home and destabilised normalcy there," the statement read.
"It is only the security agency that can disclose Nnamdi's whereabouts. Senator Abaribe has no capacity, nor has any surety in the circumstances to know the whereabouts of Nnamdi Kanu. What happened in Umahia was an invasion, a war of a kind.
"Nnamdi may have been killed or captured in the imbroglio or even escaped into hiding. The onus lies on the security forces to disclose his whereabouts. The judiciary is beginning to tow the line of the executive by throwing the law overboard in matters that affect the south-east."



TheCable