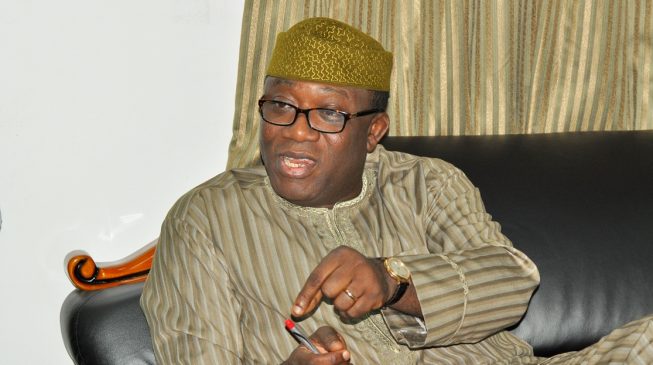 Gboyega Oguntuase, chairman of the Peoples Democratic Party (PDP) in Ekiti, on Sunday alleged that the debts incurred by the Kayode Fayemi administration from 2010 to 2014 had so far cost the state N35.34 billion.
The PDP claimed that the N35.3 billion was used in the servicing of debts and deductions from statutory allocations from October 2014 till date.
But Fayemi, the immediate past minister of mines and steel development, has denied the allegation, describing it as a deliberate falsehood, sponsored by governor Ayo Fayose to smear his image and cover up the failure of his government to deliver on electoral promises.
Fayemi who reacted through the media director of his campaign organisation, Wole Olujobi, said the campaign of lies was a sign of frustration from the Fayose camp.
He said Fayose and his party decided to embark on character assassination because of his rising political profile and the imminence of the PDP candidate's rejection at the coming gubernatorial poll.
"It is ridiculous that Fayose and his aides can still be peddling inaccurate debt figures after the Debt Management Office(DMO) had published the debts taken by Fayose himself alone, in the last three years which has amounted to N56billion, even though he swore and lied many times that he never borrowed a kobo.
"We admit that Fayemi borrowed N25b to be defrayed within three years and records are there at the DMO that Fayemi paid back N14.5billion of the debts, leaving the balance of only N10.5billion before he left office on Oct. 16, 2014.
"If the official debt figures are as stated above, how then did they come about spending N35.34billion to service an outstanding debt of N10.5billion?"
The Ekiti PDP boss had in a statement said the state was servicing the debts at an average of N1.1 billion monthly.
He said about 40 percent of the state's allocation was being deducted from source monthly.
The PDP chairman claimed that documents from the DMO and the ministry of finance, agencies in charge of the debts and statutory allocations, revealed that the debts were incurred under several headings.
He added that between October and December 2014, the state's allocations had N1.71 billion deducted to service the debts.
"In 2015, the sum of N7.85billion was deducted from our allocations. In 2016, it was N11.30billion, in 2017, it was N12.12billion and from January to May this year, the sum of N4.94billion had been deducted," he claimed.
"While we have paid off the commercial agriculture credit scheme, we are yet to pay off others and some will run till 2036
"The implications of this are many. If we had such a huge sum, we wouldn't be owing workers' salaries and more welfare programmes and projects would have been executed by the Fayose administration.
"Fayemi is the reason Ekiti State is under financial burden. He plunged the state into debts and can't point to any tangible project he executed while in office. His administration also got the highest revenues from the Federation Account in the history of the state."


TheCable