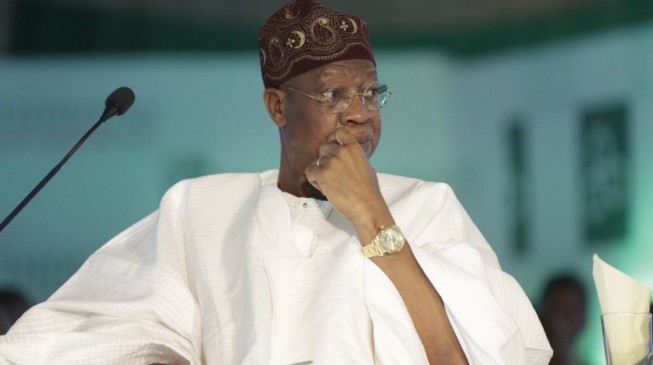 In an exclusive interview with TheCable at Cambridge University, UK, the minister said the former president was just crying foul to distract Nigerians from "the ground-breaking June 12 declaration" by President Buhari.
Lai, who delivered the keynote address at the 2018 "Africa Together Conference" hosted by the African Society of Cambridge University (ASCU), also told TheCable that President Muhammadu Buhari could consider a national award for Stella Adadevoh, the brave doctor who sacrificed her life to halt the spread of Ebola in Nigeria.
He added that there are criteria for national honours, and once a person is brought to the president, those criteria will be considered and if the person is deserving, such a person will get it.
The minister, who also spoke on the anti-corruption war being led by the Muhammadu Buhari administration, said the conviction of Joshua Dariye, former governor of Plateau state and a member of the president's party, has put a lie to notions that APC members were immune.
Speaking of what has been regarded as emergency actions by the president, Lai Mohammed said anyone who has been following the administration will know that the government has been focused on developing Nigeria.
He took a swipe at the Peoples Democratic Party (PDP) for underrating the Buhari-led government, adding that the APC will continue to surprise the opposition.
FULL INTERVIEW:
The former APC spokesman also said the government has achieved a lot in keeping Nigeria safe, especially as regards the territorial integrity of the country.
When asked about the herdsmen crisis, the minister said: "people speak out of emotions, not facts and figures". He added that the crisis is as a result of demographic change, climate change, international terrorism and pure criminality.
He added that when deaths are recorded in Zamfara, the killers are referred to as bandits, but when deaths are recorded in Benue, the killers are called herdsmen.
The minister spoke to the integrity of the National Bureau of Statistics, adding that he has absolute confidence in the numbers, but it takes 10 to 12 months to feel the comfort of post-recession growth.
He also spoke about 2019 campaign funds, and how the PDP danced on MKO Abiola's grave for 16 years.
TheCable