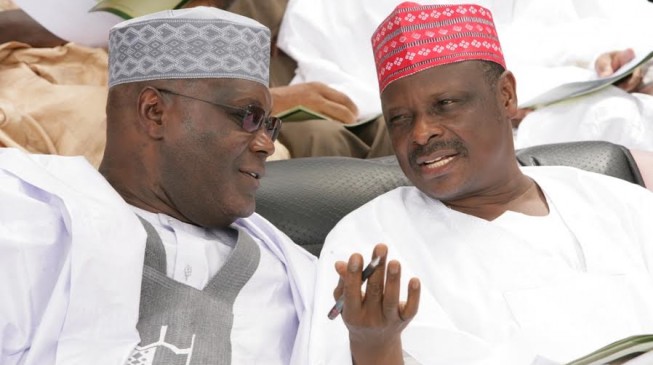 Rabiu Kwankwaso, former governor of Kano state, paid a visit to ex-Vice-President Atiku Abubakar at his Asokoro residence in Abuja on Saturday night.
TheCable gathered that Kwankwaso arrived at Abubakar's residence around 8:30pm and immediately went into a meeting with the former vice-president.
The details of the meeting which lasted 45 minutes was not made public.
A source said both men discussed about the state of the nation.
Paul Ibe, spokesman of Abubakar, confirmed the visit but did not go into details.
Kwankwaso elected on the platform of the ruling All Progressives Congress (APC) was not among the party chieftains who converged on the Eagle Square, Abuja for APC national convention.
This could be as a result of his feud with Abdullahi Ganduje, his deputy of eight years and incumbent governor of Kano.
Ganduje is in control of the party structure in the state, while Kwankwaso who has numerous supporters does not wield as much influence as Ganduje.
The senator is of the nPDP bloc which has scores to settle with the APC — although Kawu Baraje, leader of the faction, and top members like Senate President Bukola Saraki and Yakubu Dogara, attended the convention.
Abubakar and Kwankwaso contested the presidential ticket of the APC alongside President Muhammadu Buhari in 2015.
While Kwankwaso came next to Buhari in the order of votes, Abubakar placed a distant third.
Abubakar has defected to the Peoples Democratic Party (PDP) and declared interest to contest the 2019 presidential election under the platform of the opposition party.
There are reports that Kwankwaso would defect before the 2019 elections.


TheCable