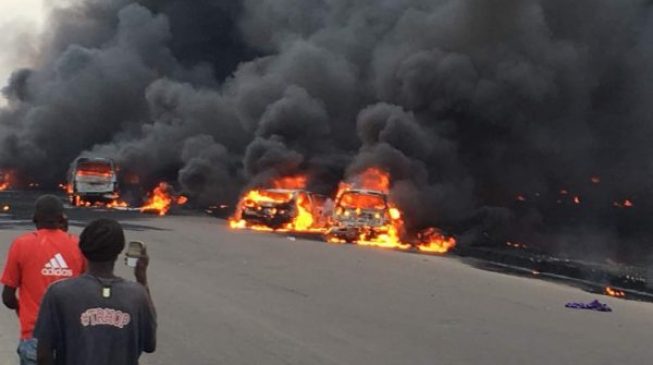 Nine persons lost their lives in the petrol tanker fire around Otedola bridge on the Lagos-Ibadan expressway on Thursday.
The Federal Road Safety Corps (FRSC) gave this update, saying the victims were burnt beyond recognition.
According to the FRSC, 54 vehicles also got burnt. The accident, outward Lagos, happened around 5.30pm.
According to Bisi Kazeem, spokesman of the FRSC, the cause of accident was break failure suffered by the petrol laden tanker.
A Joint rescue operation involving FRSC, Lagos State Emergency Management Agency (LASEMA), police Nigeria Security and CIvil Defence Corps, Lagos State Fire service, LASTMA rushed to the scene of the incident minutes after it happened.
LASEMA later tweeted that the fire outbreak had been contained.
LRU Fire & Rescue has completely put out the fire. We would share more details with you shortly. #Call112 #LagosCares

— LRU #Call112 (@lasemasocial) June 28, 2018

We have managed to suppress the fire which started approximately 6pm when a fuel tanker caught flame at Otedola Bridge, Ikeja and secure the scene; the first fire truck was on scene within 7 minutes but unfortunately over 30 vehicles were already incinerated..1/

— LRU #Call112 (@lasemasocial) June 28, 2018

TheCable