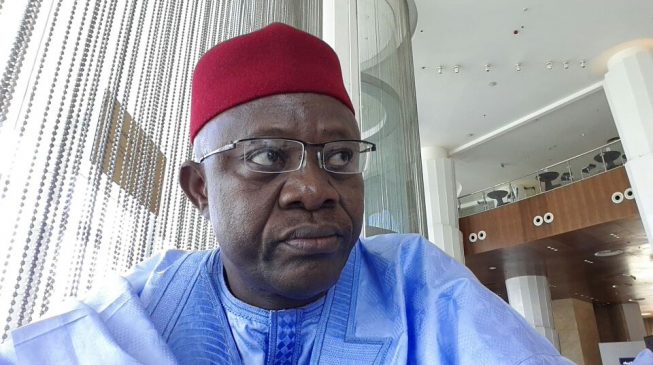 Ochereome Nnanna, chairman, editorial board of Vanguard Newspapers, has tendered an apology and retracted his "sophisticated moron" comment.
Replying to a Facebook post on the conferment of the GCFR honour on MKO Abiola, had indirectly referred to people of Yoruba ethnic group as "sophisticated morons".
His statement was received with much criticism and condemnation on social media.
Vanguard Media Limited, publishers of Vanguard Newspapers, described it as "unwarranted and careless".
Nnanna has, however, apologised over his comment, which he says has threatened his career.
According to him, he intended the comment as a "familial joke" that "I never imagined in my wildest dream that an offhand remark could provoke an anger of volcanic dimension"
"Once again, I wish to humbly appeal to all Yoruba people to please forgive and forget my indiscretion on my Facebook comment on Friday, 9th June 2018 which, understandably sparked off widespread outrage," Nnanna wrote on Facebook.
"I never imagined in my wildest dream that an offhand remark could provoke an anger of volcanic dimension which has threatened my career and Vanguard Newspapers as an institution.
"The offensive comment did not come out the way I intended it – as familial joke – but as an adult I am solely responsible for the outcome.
"One moment of madness has threatened my 29 years of living and working in Lagos during which I have made friends from all ethnic groups, and not among the least the Yorubas. I sincerely regret this unfortunate incident.
"I must say that the indiscretion was not done at the behest, or on behalf of, Vanguard Newspapers. That is why I have serially issued my heartfelt apologies to my Yoruba compatriots both as a group and personally to those whose contacts I possess. Happily, almost all of them have shown uncommon understanding because they know me very well and have followed my work as a journalist closely.
"Nothing could be further from the wrong notion of "ethnic hatred" some have ascribed to me. I have enjoyed mutually beneficial relationships with people of Yoruba ethnic stock as with a cross-section of other Nigerians, both high and low. This is probably not the forum to go into details on this because of space constraints. Therefore my apology is total and without reservations.
"I take the blame for my failure to realise the damage such careless and irresponsible comment could cause. It is a big eye-opener and lesson to me. I regret the trauma this unfortunate episode has caused everybody.
"I am willing to play any role required of me to end this matter peacefully and promote understanding. I have learned my lessons and I am eager to prove that I have no hatred for any group whatsoever, not least the Yoruba ethnic group. Their generosity of heart has promoted the corporate existence of Nigeria and provided all Nigerians and even foreigners a condusive environment for self-actualisation.
"On this note, I completely retract that offensive post because it neither represents what the illustrious Yoruba nation stands for nor my perception of them. I call on all my friends, kith and kin to please join in all efforts to restore confidence, mutual respect and love which were badly shaken since this nightmare started."



TheCable