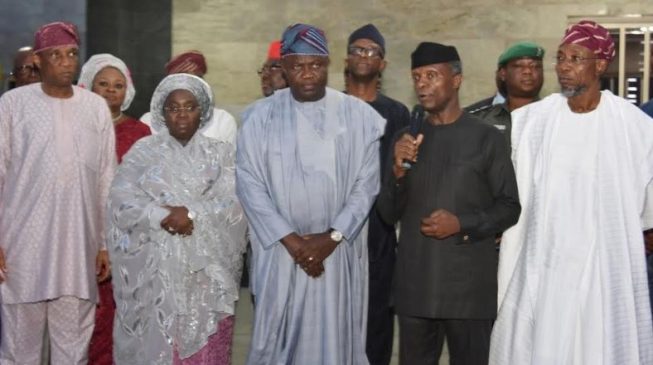 Vice-President Yemi Osinbajo on Friday visited Lagos state over the tanker explosion which took place on Thursday at the Otedola Bridge axis of Berger.
Nine persons died in the accident while four sustained injuries and 54 vehicles were burnt.
Osinbajo held a meeting with Akinwunmi Ambode, Lagos governor, at the state house, Ikeja, over the incident.
Habib Aruna, chief press secretary to Lagos governor, quoted the vice-president as saying the federal government was deeply saddened by the tragedy.
"I am here to commiserate with the government and people of Lagos state on the tragedy that occurred just yesterday. It's a very terrible thing and all of us were deeply saddened by it," the VP was quoted as saying.
"Before Mr. President left this morning he asked me to express his sincere condolences to his Excellency and also to the people of the State. It's a very deeply saddening event and we pray this sort of thing will never repeat itself.
"We also hope that all of those who have suffered injury will recover soon and we pray for comfort for those who lost their loved ones and properties in this very tragic event. That's why am here."
Ambode thanked the vice-president for the visit, saying it is a testament to the federal government's concern about the incident.
He said: "We just want to say a big thank you to President Muhammadu Buhari and also a big thank you to Mr vice-president for finding out time to quickly commiserate with us in Lagos and also with the press statement of Mr President who is not able to be here personally but has sent the vice-president, because they feel so strongly that this kind of incident is not what should be occurring in this time in Lagos and they feel so concerned that beyond the incident, if there are other remedies that we need to do, we have already discussed on those issues that we need to quickly put in place to make sure that we do not have such reoccurrence."
Ambode also assured Osinbajo that the situation had been brought under control and that normalcy had been restored within the axis where the incident occurred.
"Normalcy has come back to the city and we believe strongly that other measures will be put in place to make sure that things go on normally," he said.



TheCable