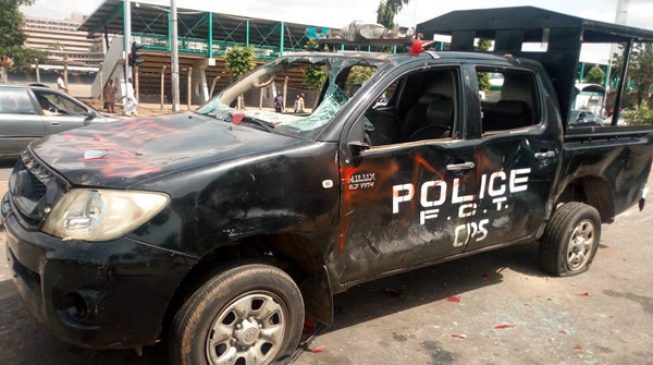 A policeman was on Thursday killed during a clash between his colleagues and members of the Islamic Movement in Nigeria (IMN), better known as Shi'ites in Kaduna state.
Many members of the sect also sustained injuries in the clash which started on Wednesday.
Members of the group had trooped out in large numbers to witnessed the the trial of Ibrahim Zakzaky, their leader, at the Kaduna state high court.
Armed security personnel had prevented the group from accessing the court complex along Bida road, Kaduna.
The situation became violent around Ibrahim Taiwo Road as the Shi'ites pelted the officers with stones and other dangerous objects.
Despite the release of teargas canisters, the protesters trooped out en masse.
Aliyu Mukhtar, spokesman of the Kaduna police command, said the deceased officer died after being hit by objects thrown at him by the Shi'ites.
"It was a large crowd, the shiite members as usual were hiding in the midst of people and when our men were trying to disperse them, they started throwing stones at them," he said.
"The policeman was hit with stones several times and he fell down. He was taken to the Barau Dikko Specialist Hospital were he gave up."
He said 11 members of the group members were immediately arrested while the situation had been brought under control.
Meanwhile, Femi Falana, counsel to Zakzaky, told reporters that the court did not sit and the case was adjourned till July 11.
Falana also condemned the authorities for barring journalists from the court, saying trial is public.
"Ladies and gentlemen you also have a duty to insist on being part of this trial because it is a public trial. It is your right to cover the proceedings" he said.
"What happened in court today is that, the court did not sit. We were informed by the registrar of the court that his lordship, Justice Gideon Kurada is indisposed. In the circumstance, we have to take a date, the prosecution and defense counsel have agreed to come back on 11th July to have possibly the arraignment and file an application for bail for our client.
"So, that is where we are. We don't know the reason the judge is not in court but we were told he was indisposed."


TheCable