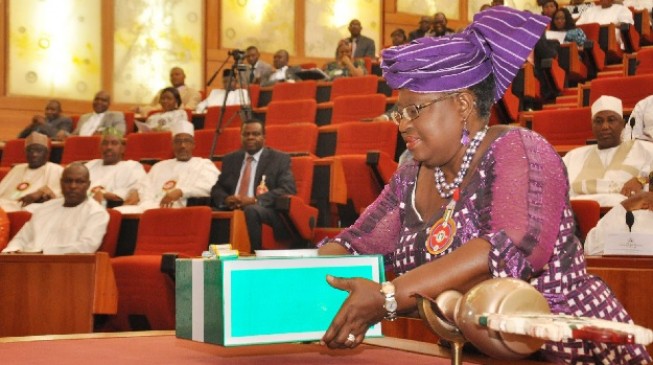 The Socio-Economic Rights and Accountability Project (SERAP) has asked President Muhammadu Buhari to order an investigation into the N17 billion allegation regarding the 2015 budget.
In her book — 'Fighting Corruption is Dangerous: The Story Behind the Headlines' —, Ngozi Okonjo-Iweala, a former minister of finance, had said members of the national assembly increased their budget by N17 billion before it was passed.
She wrote in the book: "…an additional N20 billion was re-introduced as election expenses for national assembly members.
"We insisted the amount be dropped because it nullified the 13 percent cut made to their statutory budget, but managed to reduce the N20 billion figure by only N3 billion to N17 billion. This became the price to pay to have the 2015 budget passed".
SERAP said the allegation constitutes a breach of article 15 of the UN convention against corruption.
The group urged President Buhari to order the attorney-general of the federation and appropriate anti-corruption agencies to immediately investigate the allegation, and where there is evidence, prosecute anyone suspected to be involved.
According to SERAP, the report of such investigation must be published, including the names of anyone that may have benefitted from the alleged payment.
Timothy Adewale, SERAP deputy director, said the organisation would institute legal proceedings "to compel your (Buhari's) government to act in the public interest if these steps are not taken within 14 days of the receipt and/or publication of this letter.
"The allegation of budgeting N17 billion as election expenses of lawmakers suggests a fundamental breach of article 15 of the UN Convention against Corruption, which Nigeria has ratified.
"The allegation that the members of the executive allowed the national assembly to have their way on the N17 billion also suggests giving the lawmakers an undue advantage to get the 2015 budget passed. The undue advantage or bribe also seemed linked to the official duties of lawmakers to induce the passing of the budget.
"Using public funds as election expenses of lawmakers is contrary to the convention, which prohibits bribery and requires the authorities to ensure proper management of public affairs and public funds.
"Allowing lawmakers to enjoy illicit benefits is an arbitrary or unjust exercise of executive functions. Facilitating N17 billion as election expenses has undercut access of millions of Nigerians to public services, as the funds could have been legitimately spent on services such as health, education, electricity supply or public transportation that those with few resources are dependent upon."
Yusuf Galambi, a former member of the house of representatives, had reacted to Okonjo-Iweala's book by saying: "I am unaware of any single kobo given to any member during the said period to facilitate passage of 2015 budget."



TheCable