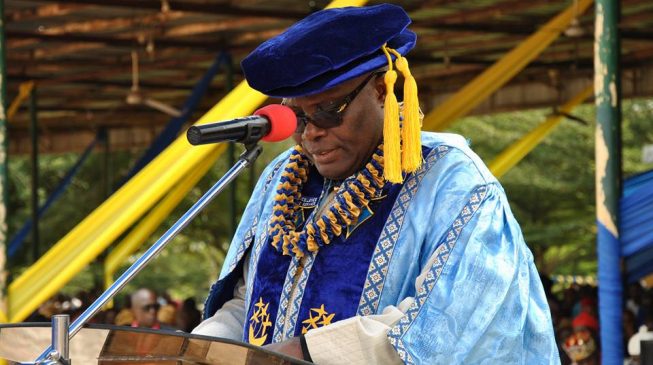 What is the highlight of the life and times of Adolphus Ndaneweh Wabara, former senate president, who clocks 70 on Friday?
You may pick the day he was born, June 1, 1948 — the beginning of a life journey that has taken him places, seen him dine with kings, and even seen him become a king.
Your pick may be his career in Nigeria's foreign mission in the early 1980s — the beginning of his public service. Unknown at the time, Wabara was already cutting his teeth in public service, where he would make a name for himself decades later.
Or you would prefer to pick his re-election as a senator in 2003, an election that ended in controversy but which later provided the springboard for his rise to the No. 3 position in Nigeria. He was senate president for two years, definitely the pinnacle of his political career so far, before resigning in the heat of a budget scandal in 2005.
That should be the lowest point of his life. But Wabara dusted himself up and took the back seat in the senate.
Until May 16, 2006. That was the day Nigerians saw another part of Wabara — the one they never knew. And for many, this remains the highlight of his career in public service.
It was the day the bill contrived to amend the Nigerian constitution to accommodate President Olusegun Obasanjo's bid for third term was killed and buried by the senate.
As pro-Obasanjo senators plotted to foist the third term agenda on Nigerians, anti-Obasanjo forces also arranged their cards. As the senate sat that day to consider the second reading of the amendment bill, one senator after the other spoke.
But the man who left a lasting impression was Wabara, who spoke last before the vote was taken. Many had expected him to kowtow to Obasanjo because the Economic and Financial Crimes Commission (EFCC) was on his case over the budget scandal (for the record, Wabara was later discharged and acquitted by a law court).
To the surprise of almost everyone, Wabara took the floor and waxed poetic, speaking forcefully against proceeding with the bill.
He said: "Ordinarily, I would have considered this bill, but my people, oh my people, have asked me to vote against it."
His colleagues cheered. Nigerians watching on live TV cheered. Shortly after he spoke, the senate voted to reject the amendment.
His "oh my people" began to trend, comparable to this era's "my oga at the top" and "transmission transmission" — although Wabara's own was positive trending.
He was never the darling of Obasanjo again, and he returned to his constituency triumphant.
At 70, he remains a member of the Peoples Democratic Party (PDP) but has never sought any elective position since he left the senate in 2007 after a two-term stay.