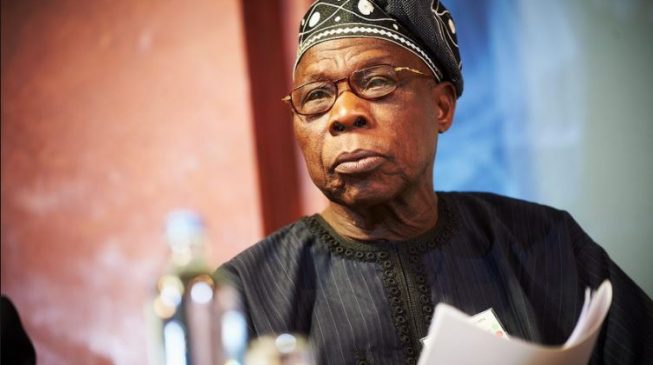 Olusegun Obasanjo, former president, says he will support any presidential candidate that has the capability to turn the country's fortune around "for good".
He said this on Thursday when he received Kabiru Turaki, a former minister of special duties and inter-governmental affairs, at the Olusegun Obasanjo Presidential Library in Abeokuta, Ogun state.
Turaki, who is seeking to contest the 2019 presidential election on the platform of the Peoples Democratic Party (PDP), came with a 10-man delegation that included Boni Haruna, former governor of Adamawa state.
Obasanjo identified the lack of "qualitative leadership" as one of the major challenges confronting Nigeria, adding that men of goodwill must not keep quiet in the face of misrule.
"Let me say that what is happening here today or what you are making to happen with your delegation particularly gladdens my heart," he said.
"You are firming up and stabilising our democracy. Democracy is not a destination but a journey and there is no nation that can claim to have reached the final destination.
"It is good for us as a nation and our democracy. We have said a lot of things that we have identified about what we need to put right as a country. What do we lack? Why are we not where we should be?
"We are so divided today the way we have not been before. People are deprived socially and economically. But you know, I have never lost hope."
Turaki, speaking with journalists after the meeting, said he came to intimate Obasanjo of his presidential ambition.
He said the country's unity was non-negotiable while accusing the current administration of "incompetence".
Turaki said: "The meeting has been a very fruitful one. We have discussed openly, honestly and frankly about the current situation in this country and like always, Baba was of tremendous guidance to us.
"Baba has spoken in his vintage way of speaking passionately about the situation in Nigeria.
"We believe that our indivisibility as one and a united nation is given and it is non -negotiable. We feel that our unity is also non-negotiable."


TheCable