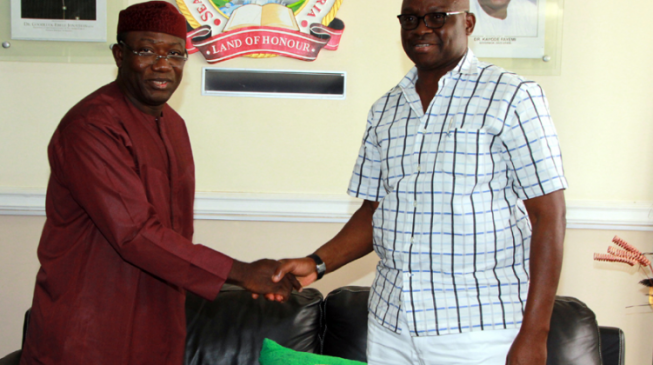 Kayode Fayemi, governor-elect of Ekiti state, has vowed to look into the books of the current administration in the state to know why salaries of workers have not been paid for at least six months.
Workers' welfare was one of the issues that Fayemi used to tackle Ayodele Fayose, the outgoing governor, during the campaign period.
Fayose had supported Kolapo Olusola, his deputy in the election.
Speaking with reporters when he visited President Muhammadu Buhari at the presidential villa on Thursday, Fayemi said he would examine the records of Fayose's government so as to not make the mistakes of the outgoing administration.
"Well l think we need to remove this election from personalities. This was an election that we fought on issues and it will be irresponsible on my part to come here and say that we will not examine what transpired in the last four years in the manner of government," he said.
"What was received in Ekiti state and the expenditure in that period, why were we not able to pay salaries in the state. These issues should be examined in the interest of good governance.
"It is not about probing Fayose, probing Eleka etc, it is about not repeating the mistakes of the past and giving our people good government. So, we will also involve in looking at what transpired in the last four years."
The former minister of mines and steel, said his transitional committee was already working on how his administration will hit the ground running.
"We are in the business of putting the government together. We are in the transition stage we beginning to look into the record of the state, its assets and liabilities and we expect the outgoing government to extend its hands of cooperation to us," he said.
"We will engage also all of our professionals to ensure that we deliver good governance to Ekiti people. That is what they voted for and that is what we intend to give. So, basically, this three months will be used for this purpose."
On how he emerged victorious in the exercise, Fayemi said, "What sold us to the people is really the track records of our commitment to social investment, good government, transparency in government, extensive infrastructure and community involvement. These were the things.
"Everywhere we went during the campaign, we were able to show what we did for each community. All of our 132 communities, there were projects in all of them and they knew that our government was regular in payment of salaries, support to a range of the weak and vulnerable in the society and that was really what sold us.
"We have always been interested in seeing that our people live a decent life, a life without hunger, with social support and that is why we were paying social security benefits to the elderly. We provided youths graduate scheme for the recent graduates, provided support for the communities.
"For us, we never saw stomach infrastructure from any pedestrian manner that the current administration has lived it up to. For us, it is about total development of our people, human and capital development in education, health care, in social services and infrastructure development.
"It is total service we focused on. We increased salaries three times so that people could put food on their table in four years. That was why we provided range of allowances for the workers. There was a huge difference between what we did and the present administration with lack of salaries, heartless, despair and despondency. We are restoring the values and reclaiming our mandate."
He said there is no evidence that his party was involved in the financial inducement of voters.
Journalists and observers caught politicians and their supporters giving out money in exchange of votes at different polling units across the states.
But Fayemi challenged anyone who has evidence that the APC did partook in the act to present it.
"I haven't any substantive evidence of allegations of vote-buying and intimidation. In the place where l voted, there was no vote buying anywhere," he said.
"As far as our party is concerned, we did not engage in that, it is not our style. We won the election fair and square and it was an election that we fought on issues and not on the basis of any vote-buying. So, whoever has any evidence of that should present it to an independently verifiable audience."


TheCable