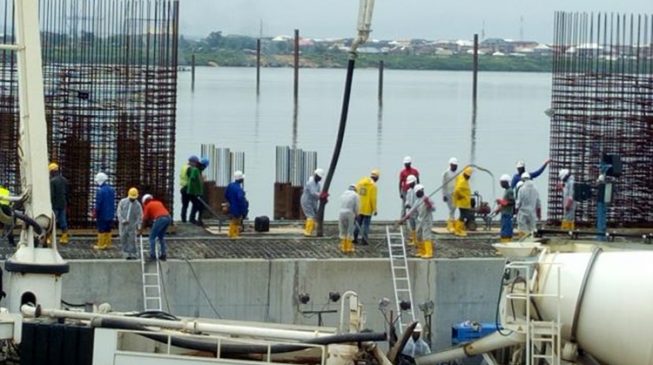 The federal executive council (FEC) presided over by President Muhammadu Buhari on Wednesday approved a contract of N206 billion for the construction of 11.9 kilometre link roads for the 2nd Niger Bridge across Anambra and Delta states.
Lai Mohammed, minister of information, disclosed this to state house correspondents at the end of the meeting.
He said the contract which include provision of associated infrastructure for the bridge, was awarded to Julius Berger, the civil construction giant.
The work is expected to be completed within 42 weeks.
Mohammed said though the public private partnership (PPP) arrangements of the previous administration for the 2nd Niger bridge had failed, the Buhari government has opted to complete it.
He said council also approved contracts for the provision of consultancy services and mining exploration at the cost of N12.7 billion, as well as the rehabilitation of road in Enugu at the cost of N11.58 billion.
Mohammed said FEC also approved among others, a contract for consultancy service for construction of a gas pipeline at the cost of $92 million.
The council also approved three memos presented by Kemi Adeosun, minister of finance.
The approvals are on ratification of multilateral competent agreement to assist in curbing tax evasion and improve revenue collection
Other memos approved for the ministry, include Africa project 50 Article of Association, with two windows to allow for project financed by the Africa Development Bank (ADB), as well as the Financial Transparency policy guideline policy memo which will allow for more transparency on how government revenue are handled.
The memo according to Mohammed " is going to assist in curbing tax evasion and improve the revenue collection".
"She also presented a memo asking for the approval of ratification of the African 50th article association. This particular memo is unique in the sense that both the African 50th project finance and African 50th project development association are actually two windows which have been created by the African Development Bank to allow for bankable infrastructural projects to be financed by the subsidiaries of the African Development Bank," he said
"The memo will take care of certain projects which cannot be financed simply by the AfDB. Such projects to be financed by these two platforms and already Nigeria is one of the founding members of these two platforms and have invested heavily in them and with the ratification of this Treaty and it has made it possible for Nigeria to take advantage of this.
"The minister of finance seeking the council's approval for the financial transparency policy guidelines. This memo was approved and I think the unique thing about this memo is that it going to bring more transparency to how government revenue and account are being handled.
"As a matter of fact, with the approval of this memo it will now be possible for the public to know exactly how much revenue is collected by the government, how much is being spent just by going on the website of the various ministries, department and agencies."
TheCable