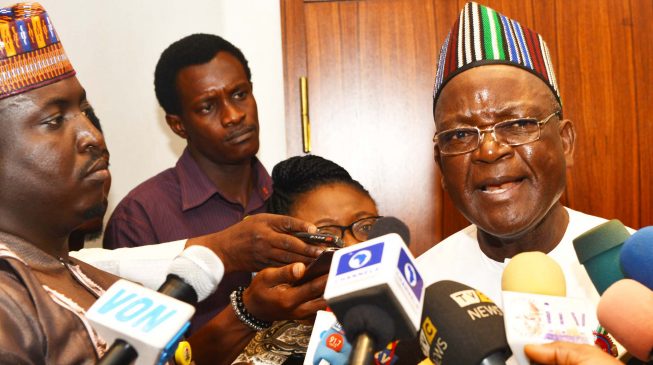 Samuel Ortom, governor of Benue state, has defected from the ruling All Progressives Congress (APC) to the Peoples Democratic Party (PDP).
The governor announced his defection at a meeting with local government chairmen and councillors at government house, Makurdi, on Wednesday.
He said his resignation letter had been sent to the chairman of the APC in ward.
TheCable had listed Ortom as one of the three APC governors that would join the opposition party.
Ortom's defection comes a day after Terkimbi Ikyange, speaker of Benue state house of assembly, was impeached.
The APC had also lost 52 lawmakers at the national assembly on the same day.
Ortom was a member of PDP who served as minister of state for trade and industry under ex-President Goodluck Jonathan. He left the PDP for APC in 2014.
Earlier on Wednesday, some youth in the state prevented Ortom from attending a reconciliation meeting with APC stakeholders.
The protesters comprising youth groups carried various placards and chanted songs, calling on the governor to leave the ruling party.
Addressing journalists, Terrence Kuanum, leader of the youth, said: "We are openly telling you this because if you fail to heed our advise and attend the meeting we will ensure that you are voted out in 2019.
"We the Benue youth are not prepared to stay with you in APC, we are not prepared to remain in a party where its leaders would prefer to look the other way while armed herdsmen killed our children, pregnant women."


TheCable