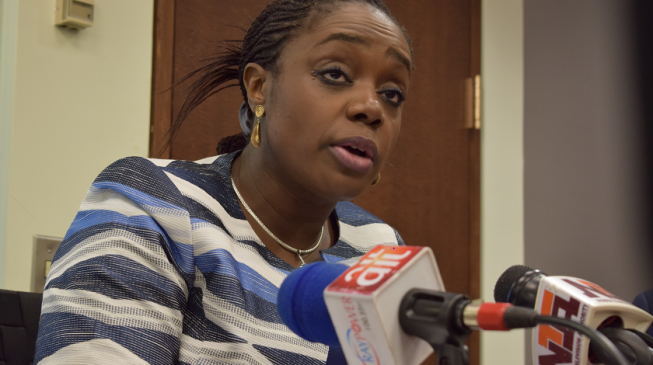 Maharazu Tsiga, former director-general of the National Youth Service Corps (NYSC), says the exemption certificate allegedly given to Kemi Adeosun, minister of finance, could not have been issued by the corps.
Adeosun has been in the news for allegedly obtaining a fake NYSC exemption certificate, having reportedly failed to serve her country as and when due.
According to the report by Premium Times, the certificate in question was purportedly signed in September 2009 by Yusuf Bomoi, a retired brigadier-general.
However, Bomoi officially left NYSC on February 13, 2009, giving rise to query on the originality  of the certificate.
In an interview with Premium Times, Tsiga, who succeeded Bomoi, said it was impossible for Adeosun to have been issued an exemption certificate by the corps.
Tsiga, the 14th director-general of NYSC,  served between 2009 and 2011.
He added that there was no way he would have approved of it, nor would Bomoi return to issue it.
"There is no way that somebody would come and sign after hand over," Tsiga said.
"In as much as you have not served, no matter how old you grow, in as much as you were not mobilised to serve at the time you were supposed to serve, they can never give you exemption. You must go for service."
He further said faking NYSC certificate is not a new issue.
"As I told you, we have had fake corps members, even fake NSYC camp" he said.
Tsiga said the scheme could identify the originality of the certificate from its "strong room".
"We have what is called strong room. I believe from there they can easily identify if a certificate is issued by the NYSC or not," he said.
Lending his voice to the debate, Anthony Ani, a former director of mobilisation at NYSC, said it is not proper to apply for exemption certificate from the scheme.
According to him, it is the corps that determines if a graduate would be exempted or undergo the one-year programme.
He said prospective corps members only present their credentials.
TheCable had reported how top officials of the corps plotted to help Adeosun out of the certificate scandal.
NYSC insiders told TheCable were considering blaming on Bomoi, who died on September 18, 2017.
Reacting to the controversial certificate, NYSC said Adeosun did apply for an exemption but promised to investigate the certificate in question.
Adeosun has kept mum since the issue surfaced.



TheCable