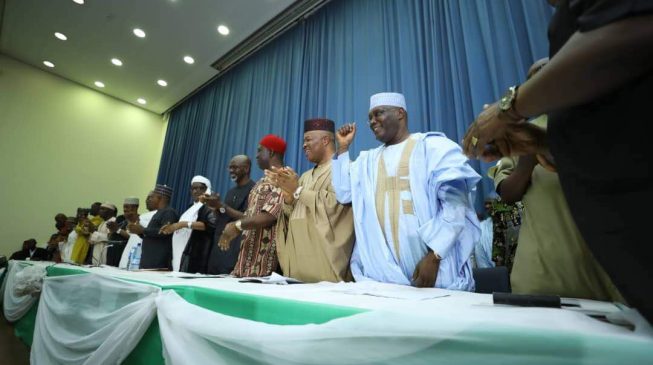 Adams Oshiomhole, chairman of the All Progressives Congress (APC), says the coalition against President Muhammadu Buhari lacks what it takes to win
He said this in Abuja at the inauguration of the elected national executives of the 39-member non-national working committee (NWC).
Oshiomhole described those who broke away from the party as collection of old coaches searching frantically for new ideas.
"The mercenaries, who mistakenly joined the party because of what they can gain personally, not for the good of the country, not for the good of the party, who came in purely for greener pastures and have found that they have had to work hard to plant the grass, to wet it, nourish it for it to become green and they cannot wait," he said.
"They want to run, not because we have wronged them but because we just cannot satisfy a mercenary. For those ones, we will not only open the door, we are ready to open even the windows.
"But I am ready to go to any length to persuade and appeal to genuine people who are aggrieved, but like I have said, I am not intimidated; I am not frightened, I am not impaired and I want to urge everyone of you individually and collectively that we cannot be intimidated.
"The more they search, the more they get old players, not even the best of them, but the worst of old players and I do not think Nigerians can be fooled by a coalition of that.
"If you harness the energy of one million snails and transform it into one snail to run, it cannot catch up with an antelope.
"It was a clear admission that as things stand today, neither the one we defeated before, the PDP, nor the new one that claim they have formed a new party but populated by the same old tired legs, or the mushroom parties that were formed for the purpose of getting handouts from INEC, but all have agreed that none of them has what it takes."