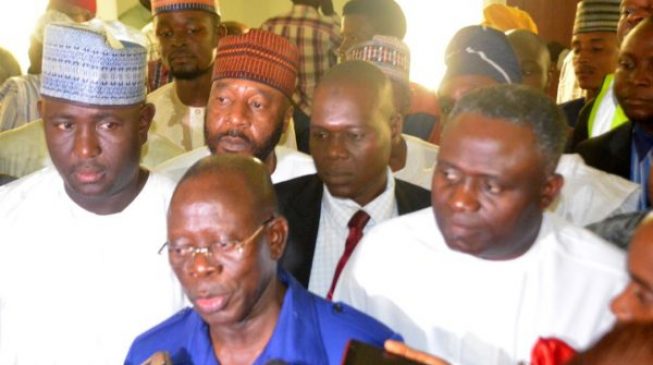 Adams Oshiomhole, national chairman of the All Progressives Congress (APC), says Samuel Ortom, governor of Benue state, is not leaving the ruling party.
Describing Ortom as a man of honour, Oshiomhole said the Benue governor who left the Peoples Democratic Party (PDP) over three years ago cannot return there now.
On Monday, Ortom had said he was considering joining a new party since he had been given a "red card" in the APC.
But Oshiomole said the APC does not have a red card, therefore it can not  give what it does not have.
Oshiomhole spoke after meeting with Ortom at the APC secretariat on Thursday.
"For PDP hovering round they must know that only people without honour will vomit in the morning and in the afternoon, they convert it to lunch. People like Ortom who have honour cannot leave PDP three and half years ago, with his eyes open, and then there is some tension in his master bedroom, he is thinking of returning to People Deceiving People? I mean that cannot be an option," he said.
"He is a man of honour. He knows that once you make one step forward, you take the second step to consolidate the first step and that is the way to go."
He said the issue between Ortom and George Akume, a former governor, would be resolved and there would be peace in the Benue chapter of the party.
"Senator Akume is a respected leader of the party. He is former governor and a current senator. He will recognise the need for peace and we have what it takes to make peace," he said.
"In Benue, we are going for win-win solution. Governor Ortom is not going anywhere. He is a very prominent member of our party and we appreciate his leadership in Benue. We will do everything possible to help those who  have issues to resolve the issues. The only thing will we not accept is anybody leaving the house we have toiled to build together.
"APC does not even have red card, so we can't give what we don't have. We recognise that  there could be a legitimate legal issue like agreement, disagreement and contest. All these we are familiar with, they are evidence that we are a democratic party. When leaders have disagreement, it is to help them and find a common ground and issues in Benue are not so fundamental that cannot be  resolved.  We are very confident that we will resolve them."
Ortom was among the three APC governors who met with PDP leaders in Ilorin, Kwara state capital, on Wednesday.
Also in attendance was Senate President Bukola Saraki. The politicians met during the burial of the mother of Kawu Baraje, leader of the nPDP,a faction of the APC.



TheCable