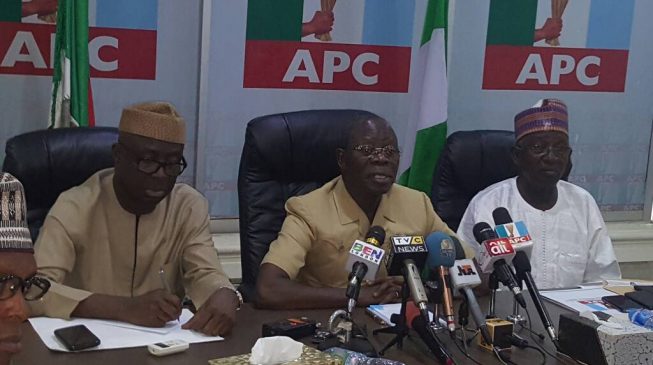 Adams Oshiomhole, national chairman of the All Progressives Congress (APC), says Ayodele Fayose, governor of Ekiti state, is "hunted by ghosts of forces he used to capture power".
He said this in response to the allegation of Fayose that the Independent National Electoral Commission (INEC) is plotting to rig next week's governorship election for the APC.
Oshiomhole said Fayose and the Peoples Democratic Party (PDP) have been spreading falsehood out of fear of losing the election.
"No better evidence to the fact that PDP is panicking. You must have heard report that in clear violation of the electoral act, the outgoing Governor of Ekiti state, Ayo Fayose, has instructed the civil servants, principals and headmasters of schools to retrieve PVCs  from civil servants," he said at a press conference in Abuja.
"While we are asking people to collect PVC, they are busy retrieving PVCs. We have evidence that they had to issue queries to workers, including teachers who refused to surrender their PVC.
"We all know that Fayose was rigged into the office. The military officers involved have since confessed to the role they played. I think every armed robber thinks that the same instruments he has used would be used against him. But this is a party of change, we are not going to copy the darkest side of PDP.
"To be honest, I think Fayose is hunted by the ghosts of the forces he used to capture power."
TheCable