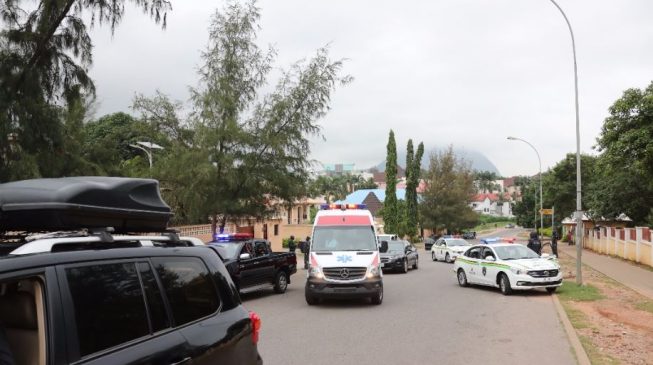 Police officers have prevented Senate President Bukola Saraki from leaving the street where his residence is located at in Abuja.
The house is located on Lake Chad Crescent in the Maitama district of the nation's capital.
Bamikole Omisore and Olu Onemola, aides of the senate president, said he is being held back from honouring the invitation by the police over the robbery incident that took place in Offa, Kwara state, in April.
"The @PoliceNG have blocked the Senate President @BukolaSaraki's convoy at Lake chad junction on his way to report to the police headquarters upon the last night invitation by the police received at 8pm," Omisore tweeted.
"The police just blocked the senate president's convoy," Onemola told TheCable.
On Monday, Ibrahim Idris, inspector-general of police (IGP), summoned Saraki over the heist.
Idris said there was need for the senate president to appear at the office of intelligence response team (IRT) to make further statements on the incident.
Saraki had responded saying that the invitation is politically-motivated.
The Offa robebry led to the death of over 20 people including police officers. Five commercial banks were robbed.



TheCable