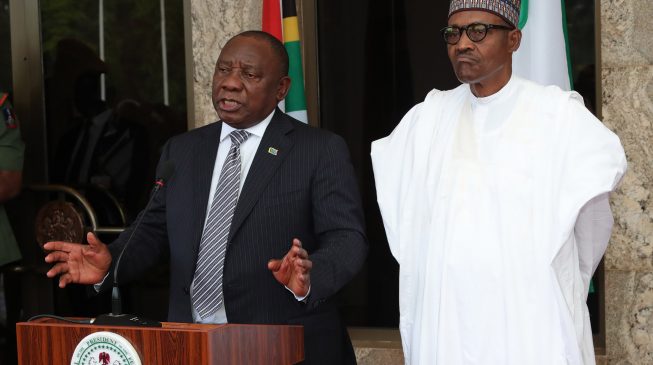 President Cyril Ramaphosa of South Africa has blamed the persistent killing of Nigerians in his country on "criminals", vowing to bring perpetrators to book.
Ramaphosa, who is currently in Nigeria, said this while fielding questions from state house correspondents during a joint press conference he held with President Muhammadu Buhari.
He acknowledged that Nigerians, through support and sacrifice, helped end the apartheid rule in his country.
Ramaphosa said it would be wrong to assume that Nigerians were being targeted as a result of xenophobia.
"There has been quite a number of incident in our country where foreign nationals some of whom are Nigerians have lost their lives and are being attacked," he said.
"I will like to say here and now that, that has been as a result of criminal activity among our own people which we are focusing on from a criminal element point of view.
"I want to state here and now that South Africans do not have any form of negative disposition or hatred towards Nigerians and in the main Nigerians in South Africa and a number of places of our country live side by side, they cooperate very well and some are in the corporate structures of our various companies and some are traders and some are into a number of things.
"So, I want to dispel this notion that when a Nigerian looses his or her life in South Africa, it is as a result of an intentional action by South Africans against Nigerians. That is simply not true.
"You will know that South Africa has a number of challenges, one of which is criminality which is all pervasive. We have over a number of years been bringing down a number of crime in our country and we are working on a concerted basis to ensure that crime does come down. And the criminality that we have is borne out of a number of factors, one of those is unemployment among people. 27 percent of South Africans are unemployed which amount to about 9 million and most of these are young people.:
Ramaphosa acknowledge that there is high level of poverty and unemployment in South Africa, blaming this "our very sad history of apartheid misrule".
"There is still inequality in South Africa, a few people are extremely rich and majority of our people are very poor and all these factors and other social factors have contributed to the high levels of crime," he said.
"And criminality is something like I said that we are focusing on, doing everything to bring it down. And on top of everything else, people in various parts of the country who get engulfed in acts of criminality, majority of them are South Africans and some of them will be foreign nationals and will either be Nigerians and other people from other countries.
"These are acts of criminality and I want to end by saying that, when we were involved in our struggle, we said that the South Africa that we are fighting for is the South Africa which will regard everyone who lives in South Africa on the basis of equality and respect for human right. And we said that South Africa belongs to all the people who live in it.
"So, the Nigerians who are in in South Africa are also part of our community, they can never be targeted on an intentional basis as people who must either be attacked or killed and when that happens, l will like all of us to see that as an act of criminality which in the main affect many South Africans in the various parts of our country. In that regard, we will like that you should never think that it is being done against Nigerians intentionally.
"It is an act of criminality and our government is determined to bring the levels of criminality down and also to go after those who perpetrate these acts of criminality. So, that anyone who attacks anyone in South Africa will be pursued with the might of the law to make sure they are brought to justice."
Ramaphosa, who assumed office last February, also disclosed that his presence in Nigeria was his first visit to any country aside multilateral summits, countries in his region and that this is deliberate because of his administration's focus on Africa unity and development."


TheCable