'#WhereisJonesAbiri?' — Salkida launches proof of life campaign for journalist detained for over two years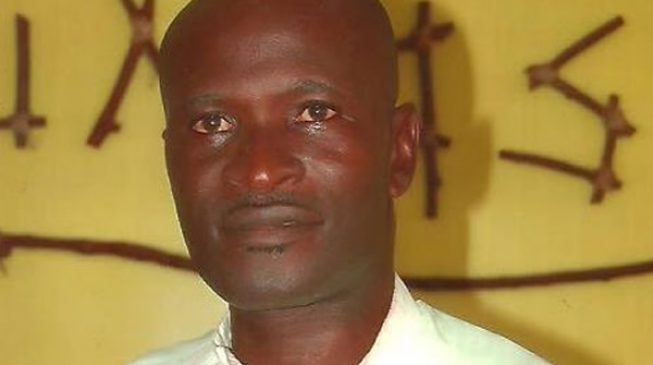 Ahmad Salkida, an investigative journalists, has launched a proof of life campaign for Jones Abiri, a journalist who has been in detention without trial for two years.
On July 16, 2016, Abiri, publisher of the Weekly Source, a newspaper based in Yenagoa, Bayelsa state capital, was picked by agents of the Department of State Service (DSS) on the allegation that he is the leader of joint revolutionary council of the Joint Niger Delta Liberation Force, a separatist group.
DSS had claimed that Abiri confessed to bombing oil pipelines, planning attacks on Abuja, and sending threat to international oil companies
Since then, he has been detained without access to his family, lawyers, and doctors.
THE ARREST
On 21 July 2016, a dozen heavily-armed DSS operatives arrested Abiri outside his office at 288 Chief Melford Okilo expressway, Yenagoa, Bayelsa state. Witnesses were quoted as saying the DSS agents did not produce a warrant before raiding his office, and taking him into custody.
They were said to have spent hours searching Abiri's office before reportedly carting away his computer and documents, sealing his office, and taking him handcuffed into custody.
"I was personally there when he was taken away. I tried to ask what was the problem and I was rebuffed with their guns. I was threatened to be shot if I come any closer. Everybody was scared," John Angese, chairman of the Nigeria Union of Journalists in Bayelsa, was quoted as saying.
Two days after his arrest, the DSS released a statement alleging that Abiri is a militant named General Akotebe Darikoro, operating under the nom-de-guerre 'General Kill and Bury', the leader of the Joint Niger Delta Liberation Force, "which has been furthering separatist tendencies in connivance with other criminal gangs in the Niger Delta region".
In August 2016, the journalist's family filed a fundamental rights enforcement lawsuit against the DSS, asking the Bayelsa state high court to declare Jones arrest and continued detention without trial unconstitutional, unlawful, illegal, null and void, and order the the secret police to release Jones on bail, and open Weekly Source newspaper's office.
In his ruling on September 7, 2016, Nayai Aganaba, a judge of the court, ordered the DSS to reopen Weekly Source newspaper's office but ruled that the DSS arrest and continued detention of Jones, then almost two months, was lawful.
The security agency had told the court that the delay in charging Abiri to court was due to "ongoing efforts to arrest other members of the militant group" as well as results of "scientific analysis of evidence" still being awaited.
Two years down the line, no step had been taken to either charge him to court or allow him access to either his lawyers or his families.
The security agency has also not giving any update with regards to arrests, outcome of the purported analysis or his current state.
OUTRAGE, ANGER
Abiri's continued detention has angered many Nigerians, leading to the launch of the campaign to prove he is still alive.
"Even if it is difficult to obtain proof of life from terrorists, it shouldn't be any difficult from a democratic government," Salkida wrote via his Twitter handle.
In June, Garba Shehu, spokesman to President Muhammadu  Buhari, was quoted as saying  Abiri is not a journalist but "a militant who remains a guest of [the DSS] because of his alleged criminal activities".
Lai Mohammed, minister of information, had also said no Nigerian journalist is being held in custody.



TheCable