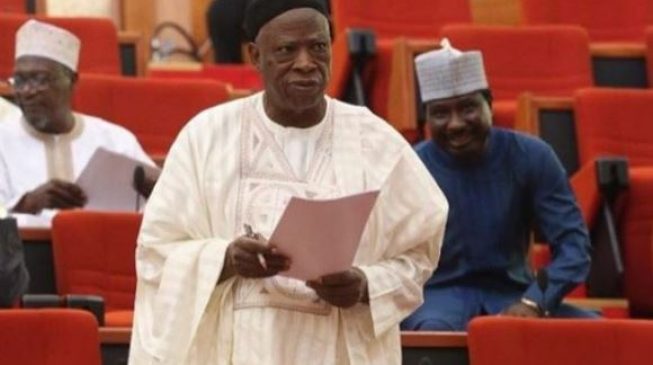 Abdullahi Danbaba, senator representing Sokoto-south and Isa Misau, his Bauchi central counterpart, have accused Abdullahi Adamu of Nasarawa-west senatorial district of being an agent of instability and division.
In a joint statement on Thursday, the two senators who just defected to the Peoples Democratic Party (PDP) from the All Progressives Congress (APC), accused Adamu of churning out misleading information about those who left the ruling party.
They dismissed the comment attributed to Adamu that Senate President Bukola Saraki collated and announced list of senators he felt were not happy with the ruling party as defectors.
The duo said Adamu who allegedly begged to be appointed a committee chairman at the inception has now become a lap dog of the presidency "because he is being haunted by his past".
"People like Adamu have become agents of instability and division in the senate. How possible is it for somebody to just announce the change of party on behalf of a senator without the legislator concerned giving his consent," the statement read.
"It is public knowledge that the axe of the Economic and Financial Crimes Commission (EFCC) is dangling on him and one of his sons.
"It is surprising that a man of Adamu's caliber will say that the only defecting senators are from Kwara. We wonder if Danbaba (Sokoto), Isa Misau and Suleiman Nazif (Bauchi), Monsurat Sunmonu (Oyo), Barnabas Gemade (Benue), Ubali Shittu (Jigawa), Suleiman Hunkuyi (Kaduna), Usman Nafada (Gombe), Rabiu Kwakwanso (Kano), Abdulazeez Nyako (Adamawa), and Dino Melaye (Kogi) are also from Kwara state.
"We can assure him that more senators are preparing to leave the sinking ship of APC and Adamu Abdullahi will have more fabrications to do.
"Adamu is struggling to save his skin but he should at least care about the credibility of the information he is giving out. At his level, he should refrain from circulating fake news."


TheCable