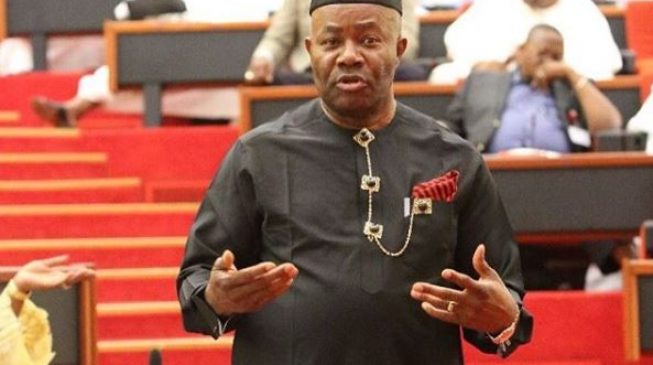 Okoi Obono-Obla, senior special assistant to the president on prosecution, says Godswill Akpabio will defect to the All Progressives Congress (APC) in a few days.
The Peoples Democratic Party (PDP) senator is believed to be at loggerheads with Emmanuel Udom, his successor as Akwa Ibom governor.
According to Obono-Obla, the ex-governor will be received into the APC by Acting President Yemi Osinbajo.
Akpabio, minority leader of the senate, was said to have met with Osinbajo earlier in the week.
In a Facebook post on Saturday, Obono-Obla said the reception will take place on Thursday, August 9, at Ikot Ekpene Stadium, Akwa Ibom.
Ita Solomon Enang, senior special assistant to President Muhammadu Buhari on national assembly matters (senate), is also said to be among the APC chieftains who will welcome Akpabio to the party.
Obono-Obla wrote: "There shall be an APC Rally at Ikot Ekpene, Akwa Abasi Ibom State on Thursday the 9th August 2018 to receive the former indefatigable Governor of the State, His Excellency, Senator Godswill Akpabio to the All Progressives Congress! Acting President Osinbajo accompanied by Senator Ita Enang and leaders of the APC in Akwa Ibom will formally receive Senator Godswill Akpabio into the APC at Ikot Ekpene Stadium on Thursday August 9, 2018."
Akpabio's anticipated defection is coming in the wake of such moves by Senate President Bukola Saraki and the governors of Sokoto, Kwara and Benue to the PDP.