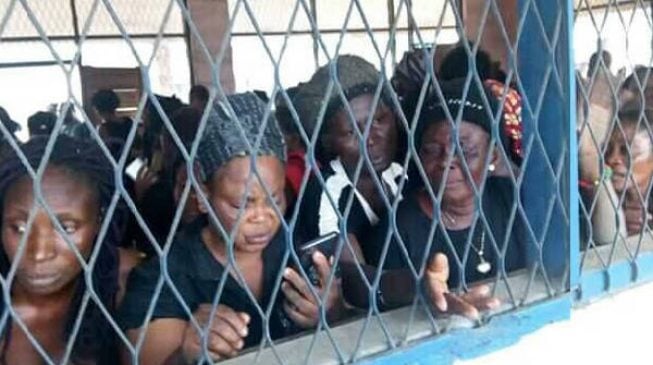 Igbo Ekunie Initiative, a socio-cultural Igbo organisation, has demanded the release of over 100 women recently arrested by security operatives in Owerri, Imo state.
The women were protesting the disappearance of Nnamdi Kanu, leader of the Indigenous People of Biafra (IPOB) when they were picked by the ecurity operative and subsequently charged to court.
Kanu has not been seen in public since IPOB had a clash with soldiers of the Nigerian army in Abia, last year.
In a statement on Wednesday, Tochukwu Ezeoke, the initiative's president, condemned the arrest, describing it as "cowardly" and "primitive".
"These innocent and unarmed women were within their rights under the Nigerian constitution, engaging in a peaceful demonstration and protest over the continued disappearance of Nnamdi Kanu," the statement read.
"We are supposed to be in a practicing democracy and we cannot understand why the magistrate Mrs S.K. Durumba before whom the arrested women were charged in Owerri would refuse to discharge and acquit the women or at least grant them bail as prescribed under the law.
"We find it strange that an organization that goes to sleep when hundreds and even thousands are massacred across Nigeria by Fulani herdsmen can hurriedly embark on arresting and assaulting harmless and unarmed Igbo mothers."
The group accused the security agencies of being partisan and serving the interest of a particular section of the country "whereas security agencies are constitutionally required to  serve all citizens."
It called for the immediate and unconditional release of the women while "maximum compensation in monetary terms should be paid to them by the Nigerian authorities."



TheCable