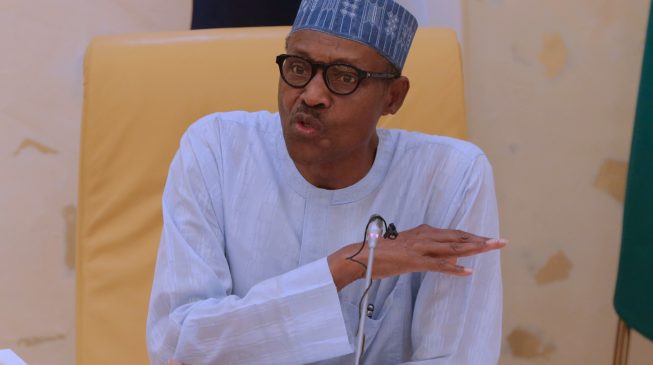 President Muhammadu Buhari says his administration will always uphold the sanctity of the rule of law in governing the country.
Buhari said this after widespread criticism that national security is superior to the rule of law.
Speaking during a meeting with German Chancellor Angel Merkel on Friday, Buhari said the rule of law embodies all the rightful mechanisms for conflict resolution, both within the country, and in dealing with all foreign partners.
He said all the agreements signed with the European country will be fully respected.
Buhari received the German chancellor, who was accompanied by top government officials and a business delegation, at the presidential villa in Abuja.
The president said unity and harmony in every society can only be preserved by observing the rule of law, and ensuring that agreements reached in good faith are followed through to the mutual benefit of countries.
He said his administration remains focused on delivering a peaceful, economically viable and politically stable polity to all Nigerians.
The president expressed gratitude to Germany for the "fair treatment" of migrants.
Buhari said Nigeria looks forward to improving its trade figures with Germany, which had taken strong interest in investing in the country and supporting the government in providing effective services in security, education and creation of jobs.
Buhari said the economy was already responding to the diversification reforms and the stimulus of the government as growth is now largely driven by the non-oil sector.
"I enjoin you to invest in Nigeria because this is the best time to do so,'' he added.
Buhari said the successful political transitions since 1999 were clear indications of the country's stability and preparedness to welcome more investments that will bolster the economy.
In her remarks at the meeting, Merkel said Germany is prepared to further strengthen bilateral and business relations with Nigeria, which, according to her, controls 60 percent of ECOWAS economy.
The German Chancellor said the population growth and opportunities in the economy can always be explored to improve employment situation in the country.
Merkel said the three memoranda of understanding signed during the visit represent a starting point for a healthier and deeper partnership with Nigeria in areas of security, trade, immigration and education.
The federal government signed a memorandum of understanding with Volkswagen of South Africa for the manufacturing of Volkswagen vehicles in Nigeria, while Nigeria Incentive-based Risk Sharing System for Agricultural Lending (NIRSAL Plc) signed a memorandum of understanding with Petkus Technologies GMBH for the supply of seed and grain processing machines.
The Nigerian Association of Chambers of Commerce, Industry, Mines and Agriculture also signed a memorandum of understanding with German African Business Association on fostering trade and investment.


TheCable