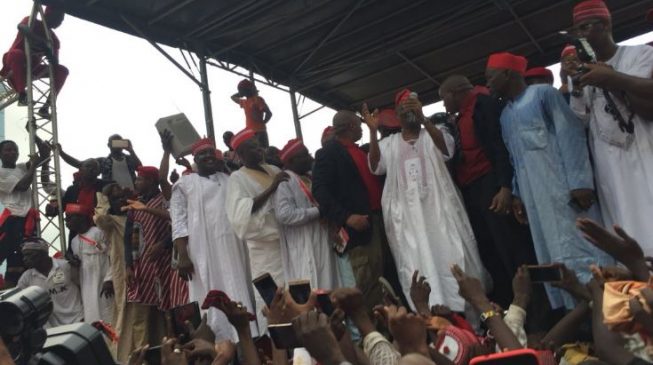 Rabiu Kwankwaso, Peoples Democratic Party (PDP) presidential aspirant, says medical tourism has become the first choice of Nigeria's leaders.
Speaking at the declaration of his presidential ambition in Abuja on Wednesday, Kwankwaso said if elected, his government would ensure that the health sector is reformed.
The senator representing Kano central said his main goal is to provide affordable healthcare services.
"Now that medical tourism has become the first choice of our leaders, we will ensure that the current situation in clinics and hospitals is given radical reforms," he said.
"We shall prioritise and institutionalise national healthcare programmes and delivery medical education and training and financing of healthcare in a manner that is universally accessible and affordable.
"Our main goal in healthcare would be to provide affordable healthcare services for all Nigerians."
The former Kano governor said the economy has witnessed a "weak performance" because of bad policies and failed institutional supervision.
"Tight monetary rates, exchange rates fluctuations, inflation and unemployment are the dominant factors hindering the growth and survival of our businesses in the country today," he said.
"Therefore our focus shall be on sound economic policies that will ensure a new regime of exchange rate stability. low interest rates and reduction in the country's rising burden of domestic and foreign loans.
"In the past three years, poverty and unemployment have become more visible, challenging Nigeria's economic prosperity. Existing policies and economic programmes for alleviating the poverty incidence in the country have obviously failed.
"Our non-negotiable goal will therefore be the eradication of poverty through sustainable wealth creation and a coordinated and effective micro-small and medium enterprises development."
Kwankwaso said if the country's infrastructure is not fixed, Nigerians will not enjoy "the joy of national prosperity".
"With a rapidly growing population, Nigeria's infrastructure is challenged. If not tackled it would deny citizens the joy of national prosperity," he said.
"Energy need keeps shooting up the stress of doing business m Nigeria. Domestic production suffers and a lot of foreign companies also find it hard to invest in Nigeria due to constant power failure for decades. Nigeria failed to develop its infrastructure."
The senator also said he would pursue reforms in the security sector.
"I offer positive change. Change has again become inevitable. To live is to witness changes because change is an inseparable part of living," he said.
"Come May 2019, the narrative of helplessness, buck-passing, division, poverty, insecurity and hopelessness must change to turn to a new dawn of confidence in building a one well restructured Nigeria.
"The constant misuse of security apparatus will stop immediately. Ours is a recommitment to strengthening all democratic institutions in Nigeria."



TheCable