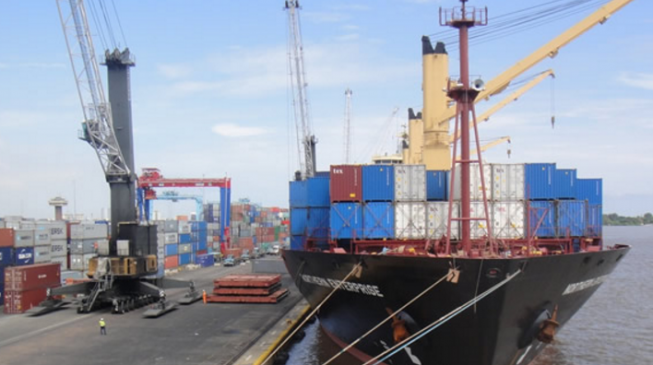 Kunle Folarin, chairman, Nigerian Ports Consultative Council (PCC), says Nigeria controls 70 percent of the economies of West and Central Africa.
He made the statement on Friday at the third annual maritime conference holding in Lagos.
Folarin, who is also a maritime economist, said Nigerian dominance was far from the formal trade alone and would certainly be bigger if "we consider the informal trade aspects of cargo movements".
He said ships' traffic into Nigeria by latest data was over 5,307 units per annum.
"The potential is certainly bigger when we consider the capacity of cargo traffic to Nigeria's landlocked neighbours such as Niger Republic and Chad," he said.
"In the real terms, over 85 per cent by value of all the goods and services that entered Nigeria came through the seaports.
"The current aggregate value exceeds $15 billion a year through normal import order. Nigeria also imports over two million tonnes of non-oil cargo yearly.
"It is therefore, no doubt that the maritime sector's performance is indeed a major contributor to the economy and must be given attention when discussing port costs and port charges."
He recalled that the available port infrastructure in the 1970s could not handle more than 12 vessels at a time in Apapa Port Complex, which resulted to long queue of ships waiting to berth.
Folarin said in 1970, ship owners incurred huge running cost and this led to demurrage as a result of penalties put in place by the chartered parties.
He said the port cost and charges reform policy of the federal government started in 1993 by the ministry of finance apparently to address the issue of rising costs in the delivery of port services and several others.
The PCC boss said port concession system started in 2006 by transferring operations of public sector activities to the private sector to improve productivity and achieve competitiveness at the ports.
He said that there was a need for the port industry to be truly productive, competitive and earn a hub status in the region, adding that otherwise, Nigerian ports would continue to perform at best a little above average.


TheCable