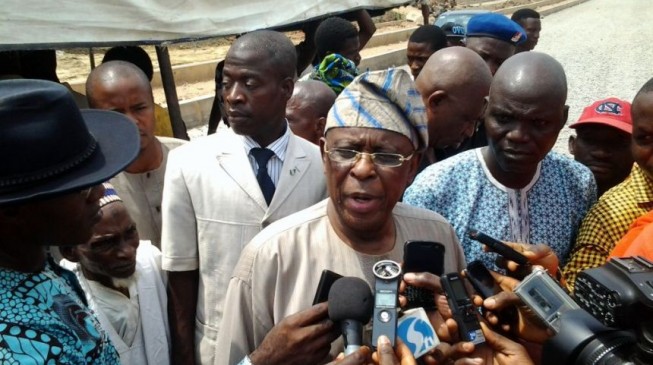 Olusegun Osoba, former governor of Ogun, says ex-President Olusegun Obasanjo is responsible for the decline of good leadership in the country.
Osoba said this on Monday at a colloquium to celebrate the 70th birthday of Ray Ekpu, a renowned journalist and activist.
Speaking on the topic 'Nigeria: The Leadership Question', Osoba said: "In 1999, I tell you, the level of governors who were elected then through open ballot system held Obasanjo, if we didn't hold him he would have gone haywire from 1999.
"We AD were the firebrand. I'm sorry, people say I keep talking about Obasanjo, the day Obasanjo rigged the AD governors out of council of state was the beginning of the downward trend of leadership in this country."
Osoba said he is proud that the governors of his time are not being probed by the anti-graft agencies.
He said: "I am proud and when they talk about people doing their civic responsibility, I still pay my tax even the money I earn in dollars I pay tax to Ogun and Lagos states in dollars. I am proud to say that none of us is before ICPC or EFCC, the governors of our time."
The former governor said there is an urgent need for the amendment of the electoral act.
"I have hope that the 2019 election would not be conducted the same way," he said.
"In that amendment, they are putting there that electronic system must be used in all the elections. They did not say card reader, but electronic system and that is important.
"Any INEC official who conducts election and did not transmit result immediately by electronic system will go to jail for five years and that's the beginning of controlling our elections."
Osoba said the Independent National Electoral Commission (INEC) should be able to acquire the technology for electronic voting in 2019.
He said: "Forget about sequence of elections, let us sign the other provisions that are in that amendment then we shall start having the kind of election that produced us as governors in 1999 which was open ballot. The Afenifere leaders didn't want me, but I went to the field and it was open ballot and I won.
"I hope the amendment to the electoral act is signed, 2019 election will not be the same again. If Nigeria can do point of sales, I do not see any reason why INEC cannot buy that kind of satellite that transmits results straight to the headquarters so the issue of producing those million votes in Kano cannot be possible."