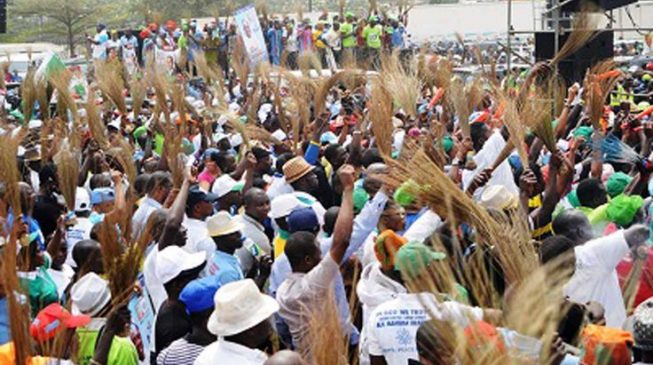 Azeez Adesiji, deputy chairman of the ruling All Progressives Congress (APC) in Osun state, has defected from the ruling party with about 6200 members of the party to the Action Democratic Party (ADP).
The defectors include eight members of the state working committee and 6,200 members of the party executive at the local government and ward levels.
The APC leaders and their followers were received by Toye Akinola, chairman of the ADP, at the party's secretariat in Osogbo amid jubilation.
Adesiji said the mass defection was caused by "alleged nepotism,impunity and unconcerned attitudes of the decision makers in the party and the state government to the citizens of the state among other reasons".
"I, Alhaji Azeez Issa Adesiji and other state exco members wish to make it known to you all about our defection into this new credible alternative party because of impunity and undemocratic practices witnessed in our former party, the All Progressives Congres,. Osun state which is unbecoming of an acclaimed progressive party," he said.
"Among the 780 local government executive in APC in Osun state, 580 are moving with me, the deputy state chairman of the party to our new party, the Action Democratic Party.
"Also, among the 8,632 executives at the ward level in the APC, 5620 are also joining the train to our new party, Action Democratic Party."
Akinola, while receiving the defectors, said he was happy with the mass defection of politicians from the ruling party to the opposition party.
He said other politicians from the APC and other political parties had informed him of their decision to join the party soon, adding that they would all be accommodated.
He urged the people of the state to support Moshood Adeoti, governorship candidate of the party, who he said would rescue the state from suffering with the support of the people.