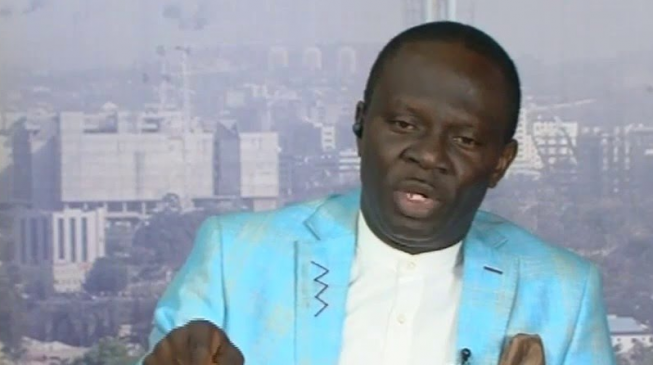 Kassim Afegbua, spokesman of the Reformed All Progressives Congress (R-APC), says the ruling party now lives in self-denial.
The R-APC broke out of the larger party last month and many other prominent members of the party also defected to the Peoples Democratic Party (PDP).
Taunting the defectors, President Muhamadu Buhari, had on Thursday, said God will continue to
fish out bad eggs in the party
, but Afegbua said the party is only trying to console itself.
"Nobody is happy in the APC that we have left. It is just a statement of consolation that okay, let us not show to these guys that they have dealt us a great deal of blow, but I can tell you we've given them uppercut and it would take a long time for them to recover from this," he said on Thursday when he featured on Politics Today, a Channels Television programme.
"The APC as it were may be living in self-denial saying that nothing has affected them and nothing will affect them.
"If you say the senate president does not have electoral value, good luck to you. If you say Governor Tambuwal of Sokoto does not have electoral value, good luck to you. If you say Kwankwaso does not have, good luck to you.
"But what we are saying is that, these are persons when leaving the party, we saw their supporters and crowd who also left with them. So the president may be consoling himself not trying to expose the pain that he's presently going through.
"And whether you like it not, more members are going to defect from the APC and I can assure you more senators, house of representatives members will defect, and majority that the APC is claiming will go into insignificance."
He said the APC is shoeing its usual arrogance and dictatorial tendencies in a manner which the individuals are not relevant to the political process.
"But we know that every individual who is of adult age is a voter and we know that the vote should count. If APC is boasting that they are going to make it in 2019, it means they are going to repeat the barbarism and the crudity of vote buying that we witnessed in Ekiti election.
"But at that time, they won't have 30, 000 policemen to take to every state. They won't have 1, 000 DSS officials to take to each state, and so to that extent, we will mobilise our people to defend their votes."
He said he would not expect the APC to accept that the defections would affect them, but every discerning mind should know that when people defect from the party, there should be a need to critically examine things, take a stock and check how the defections will tell on the strength of the party.
"Whether you like it or not, those who have left were persons that were cultivated, invited by the president, pleaded with, and promised all manners of mouthwatering promises before they still refused to accede to those pleadings. Now they left, and all of a sudden, they make a u-turn and say oh, this person doesn't have electoral value."
Afegbua said Buhari's popularity rating has dropped and the Coalition of United Political Parties (CUPP) is already preparing its ground to work out modalities that would help to unseat APC in the 2019 general election.
"This is the first time about forty mega parties will be coming together under a coalition to design a way forward— presenting one candidate that will confront whoever the APC is presenting," he said.