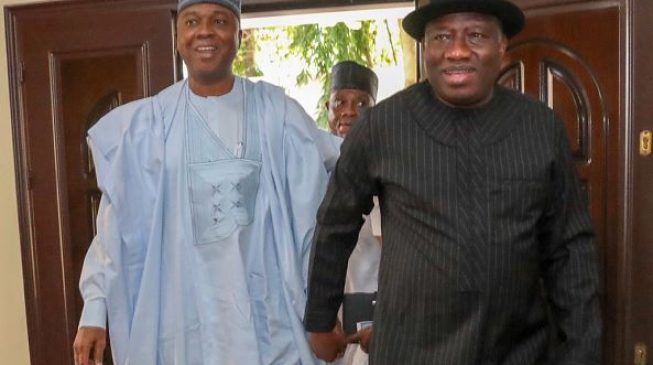 Senate President Bukola Saraki met with ex-President Goodluck Jonathan in Abuja on Wednesday.
The purpose of the meeting is not yet known but it is believed to be connected with Saraki's speculated presidential bid.
Peoples Democratic Party (PDP) lawmakers were among those who accompanied Saraki to meet with Jonathan.
The visit comes after the senate president met with former president Olusegun Obasanjo and ex-military head of state Ibrahim Babaginda.
Saraki also met with chairmen of 45 political parties last week.
His meeting with influential Nigerians began after he hinted at running for president.
Saraki had said he is "consulting and actively considering it (running for presidency in 2019)".
The lawmaker defected from the All Progressives Congress (APC) to the Peoples Democratic Party (PDP) a few weeks ago.
He had dumped the PDP in 2014 when Jonathan was president.


TheCable