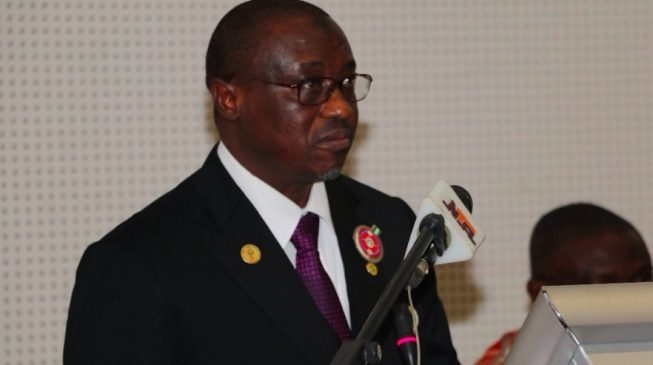 The Nigerian National Petroleum Corporation (NNPC) says Maikanti Baru, its group managing director, is not involved in any plot to impeach Senate President Bukola Saraki.
Saraki defected from the All Progressives Congress (APC) to the Peoples Democratic Party (PDP) on Tuesday, after which the ruling party said he should step down as senate president.
The NNPC said the allegation that Baru is funding the efforts to unseat Saraki is "mere fiction and outright tales by moonlight".
In a statement by Ndu Ughamadu, NNPC spokesman, the national oil company on Sunday said it is not part of the "ongoing politicking in the national assembly".
The corporation said oil and gas industry stakeholders, including Nigerians, should disregard the allegation, adding that the NNPC management "remains committed to its statutory role and responsibility to the entire federation".
"The management of the Nigerian National Petroleum Corporation (NNPC) has distanced the national oil company and its group managing director, Dr. Maikanti Baru from the ongoing political tango in the national assembly and the trending reports in some section of the media insinuating that the corporation's helmsman had doled out funds to effect the impeachment of Senate President, Dr. Bukola Saraki," the statement read.
"It is a handiwork of mischief makers seeking to drag the NNPC and its GMD into a purely political affair totally different from its mandate as the national oil company with fiduciary responsibilities to the government and people of the Federal Republic of Nigeria.
"The report is not only false but also an affront on the verifiable reforms in the operations of the corporation under the remit of Dr. Baru which has witnessed irreversible strides in the area of transparency leading to the sustained publication of NNPC monthly operations and financial records.
"It is mere fiction and outright ''tales by moonlight'' for anybody to insinuate that Dr. Baru or anybody else could just take a dip into the corporation's till and dole out the volume of funds being portrayed in that phantom report for political purpose."



TheCable