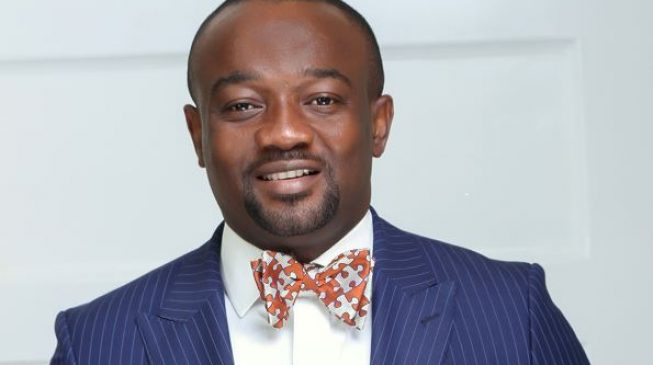 Dominic Ubong Essien (DUE) was born into the family of Bernadette and Henry Etuk Essien of Ata Minya in Mkpat Enin local government area of Akwa Ibom state. He has his early education at St. Gregory's College, Lagos. He then proceeded to the University of Port Harcourt in Rivers state where he earned a bachelor's degree in economics, graduating as the overall best student and winning two coveted departmental prizes for the best student in mathematical economics and highest grade point ranking.
Aside from his academic performance, DUE was and is still a social mobilizer and leader of men. While at the University of Port Harcourt, he was elected the speaker of the Student's Representative Council, the legislative arm of the students union government. He remains the first student of Akwa Ibom origin to have held that position. As speaker of the SRC, he presided over several students/school authority panels and committees on revenue drives, law enforcement and students welfare.
DUE also had a stint in the banking industry working with United Bank for Africa(UBA) and New Nigeria Bank (NNB) before his post-graduate education. In 2002, he was awarded the prestigious British Chevening Scholarship by Her Majesty, Queen Elizabeth II of England to undertake a masters degree in economics and finance at the University of Sheffield, United Kingdom. In a highly competitive class that had a few African students, DUE once again proved his academic prowess and distinction as one of the best in the class.
On his return from the United Kingdom in 2003, he was recruited to join Zenith Bank Plc and later Lead Bank Plc. During these years, DUE nurtured his managerial skills through a robust exposure to international best practices. He attended several local and international professional training courses on credit analysis, people management and strategy.
Armed with a rich background in managing people and resources, he has been involved in successful implementation of several start-up projects such as Sofitel- The Moor House, Lagos.
He has offered himself to serve his people by aspiring for the Ikot Abasi federal constituency seat in the forthcoming elections.
Since the advent of democracy in Nigeria in 1999, power sharing has been done through a systematic method of zoning where each part of an area are given a shot at power to allow for fairness, justice and equity. Ikot Abasi federal constituency is not an exception to this zoning arrangement.
Consisting of three local government areas, Mkpat Enin, Ikot Abasi and Eastern Obolo, the federal constituency seat has been rotated amongst these three local governments on a single term basis.
Ikot Abasi had their turn through Dr Akpan Micah who reigned from 2011-2015. Eastern Obolo are currently having their turn through the incumbent, Francis Charles Uduyok. In the spirit of fairness, justice and equity, it's the turn of Mkpat Enin to produce the next house of representatives member.
The beauty of democracy is when every part of a whole feels relevant in decision-making, power allocation, and indeed dividends of democracy. Being the largest local government in the federal constituency, Mkpat Enin is unarguably the largest vote basket in the state and the PDP as a party have fully utilized those votes.
Political analysts in the federal constituency have suggested that for the PDP to continue to have a foothold in the area, Mkpat Enin should be given their chance in 2019 as failure to do that might be disastrous to the party's chances in the forthcoming elections. Despite being a predominantly PDP local government, the people might feel aggrieved and resort to voting another Mkpat Enin son in the APC just to acquire their rightful position in 2019.
Democracy in Nigeria has been on a glorious ascent since 1999 although it's veracity has been tested one too many times already. Democratically elected leaders have come and gone, and democracy is waxing stronger by the day. And long will it continue.
In Nigeria, the general elections beckon but first, there is the small matter of party nominations and primaries where each political party will get to choose candidates who'll represent them during the general elections.
In Ikot Abasi federal constituency in Akwa Ibom state, there are several contenders from the Peoples Democratic Party who're seeking to represent the party in the forthcoming elections next year. One of such candidates is Dominic Ubong Essien, fondly called DUE.
Zoning, which has been adopted several times in Nigerian politics for the purpose of peace, justice and equity, certainly favours him. He's from Mkpat Enin local government area who's turn it is to produce the next house of reps member.
Owing to years of misrepresentation and neglect in the federal constituency, DUE, in 2010, had joined the race for the seat but lost out. In 2018, he's presented himself again for election and he's never been more qualified for the position.
His first voyage into the political terrain was certainly a learning curve and gave him much-needed experience for his second journey in 2018. Ikot Abasi federal constituency has been so blessed with abundant quality of individuals who've excelled in their endeavours within and outside the political circle in the state. One of such individuals is the senior special assistant to the governor on political and legislative affairs & water resources, Rt Hon Barr. Ekong Sampson, who has also served as Mkpat Enin council chairman and represented the local government for two terms in the house of assembly.
DUE's emergence has been seen by many as an opportunity to salvage the lost pride of the federal constituency come 2019 and bring much needed change to the political culture of the federal constituency.
DUE, a scholar of the renowned and prestigous British Chevening programme by the UK government, possesses the intellect and charisma to lead the federal constituency having garnered requisite experience during his time in the UK. As a product of the British Chevening Scheme, DUE comes loaded and equipped with new ideas and contributions that'll definitely take the constituency to enviable heights. As a graduate of economics, he also possesses the ability for efficiently and credibly manage both human and financial resources in the federal constituency.
Nigerians have for long clamoured for the inclusion of intellectuals and professional in the political scheme of things in the country and this is an opportunity to make good on that agitation.
As a serial entrepreneur and successful businessman, DUE has a line up of contacts, connections and ideas on how to better the lives of constituents in the federal constituency. One need not be told of the intricacies and discipline needed in successfully being an entrepreneur in Nigeria. With his wealth of experience in the private sector, he'll bring same to bear in the government sector when elected.
Sound. Brilliant. Intellectually savvy. Intelligent. What more do we need? Who then do we need to represent us in the national assembly? DUE is the man.
Since the emergence of Governor Udom Emmanuel in the state, Akwa Ibom state has had an upsurge in development. It's no surprise that the Governor comes from the same school of thought with DUE. From industrialization, infrastructural development, improvement in the health sector, total revamp of the education sector and lots more, Gov Emmanuel has done creditably well and needs like minded individuals in positions of authority in the state to help drive his vision for the state. One of such minds is inarguably DUE.
DUE has repeatedly encouraged more and more professionals to also get actively involved in politics in the state as it will only increase the chances of development betterment of lives of the citizens. With the involvement of experts from other fields and sectors, progress is inevitable, with the governor himself a big example of the impact of professionals in politics.
Ikot Abasi federal constituency, the time to safeguard our future and that of generations unborn is now. Our choice today will determine the actions of tomorrow and posterity will surely stand us in good stead for making the right choice.


TheCable