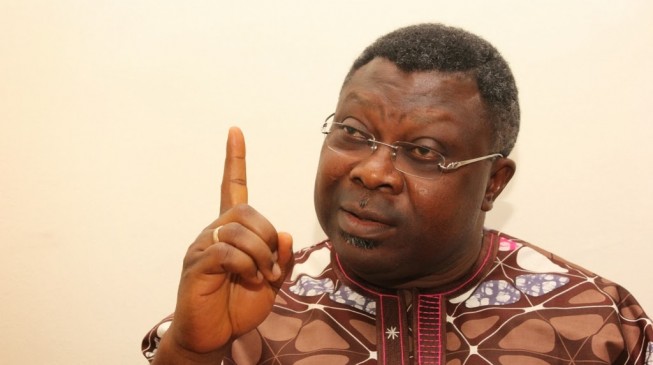 Iyiola Omisore, candidate of the Social Democratic Party (SDP) for the Osun state governorship election, expresses the hope that the government would find the killers of former Justice minister Bola Ige.
Omisore, who was one of those accused of killing Ige, said on Sunday that he was of the hope that the federal government would search for and find the killers.
Ige, a lawyer, served as minister of justice under the government of former President Olusegun Obasanjo. He was murdered in December 2001.
The SDP candidate was arrested and tried in connection with the murder before he was released.
Omisore, who has consistently denied having hands in the killing, spoke about it during the Osun governorship debate organised by Channels Television.
"I, Iyiola Omisore, went through a serious court trial for two and half years; me and colleagues. We were discharged and acquitted by the court of law," he said.
"The Oyo state government was asked to pay N2 billion as damages. We are at the appeal court now.
"So that issue has been closed. I believe that it shouldn't be an issue that occur every four years during campaigns. After elections now, (they won't) ask that question anymore. It should be an issue that has been laid to rest.
"I pray the federal government will look and search for the killers of Bola Ige and others like (Aminasoari) Dikibo, Funso Williams and others."
Meanwhile, Ademola Adeleke, candidate of the Peoples Democratic Party (PDP), failed to show up at the debate.
Adeleke's podium with his name written on it remained vacant from the beginning to the end of the two-hour debate.
The event started at 7pm with three candidates present.
They were Moshood Adeoti, Action Democratic Party (ADP), Iyiola Omisore, Social Democratic Party (SDP), and Fatai Akinbade, African Democratic Congress (ADC).
Gboyega Oyetola of the All Progressives Congress (APC) arrived after the national anthem.
TheCable