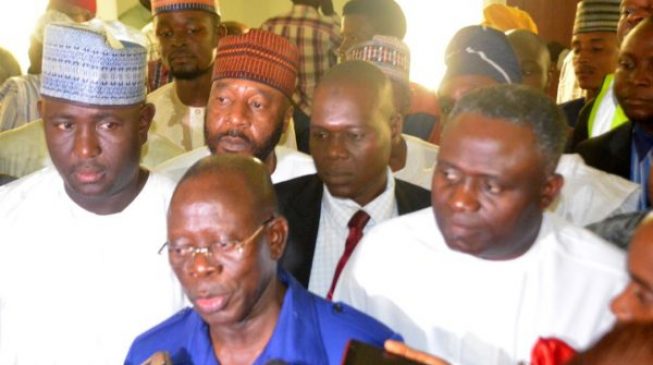 Adams Oshiomhole, national chairman of the All Progressives Congress (APC), says any state executive committee of the party that takes a side against any aspirant, group or individuals in the governorship primary election will be dissolved.
He said this while handing over the party's membership register to its state chairmen under the APC Forum of State Chairman on Wednesday in Abuja.
He said the party's national working committee (NWC) had the power to disband any state executive that failed to represent the party's interest.
Oshiomhole explained that the business of the state executives should not be confused with their personal preferences, particularly in states where there were more than one aspirants contesting for a position.
"If you do that, and it is not going to be secret, we will, without any hesitation disband the entire executive," he said.
"The NWC has the power without giving reasons to disband any executive which in its opinion, is no longer fit and competent to represent the party in respective states.
"There is only one party known to law, and that is the APC, so, please, resist any temptation.
"We have seen embarrassment where people go on television canvassing positions of their governors or declaring one person as the sole candidate.
"You don't have those powers, and if you do so, not only can you be dissolved, you can be prosecuted for breach of oath of office and oath of allegiance to the APC."
He urged the party's state chairmen to remain neutral and be seen to be neutral, even when they had their preferences as human beings.
Oshiomhole said the state chairmen must create a level playing field for all aspirants and not to allow themselves to be used by political bigwigs in their respective states.
He added that as state chairmen, they are stewards of the party, not its owners, saying the party belongs to the members.
Oshiomhole also warned the state chairmen not to tamper with the register being handed over to them, or destroy it.
"If anybody thinks if you destroy what you have, you would have destroyed the evidence, you only would have implicated yourself," he said.
"Because we have it stored in flash drive and can always reproduce, but then you would have come under sanction.
"Please know the difference between your responsibilities to the party and your individual inner preferences with regards to any of the offices, including president, governors, senators and house of assembly members."
He warned that until an aspirant emerged as the party's candidate, the state chairmen should not adopt him or associate with him in a manner that would make others feel had no fair chance in the conduct the primaries.
He further added that the details for conducting both direct and indirect primaries would be worked out, distributed and published and would be strictly adhered to in all the states of the federation and the federal capital territory (FCT).


TheCable